If you're walking around campus and notice someone wearing a Detroit Pistons jersey with the name soupypooy69 on the back, you may have just seen Wayne State's own content creator. 
Amidst the TikTok craze, WSU has a viral TikToker of their own and his name is Daniel Rotter — otherwise known as soupypoopy69. 
Scrolling through his feed on Instagram, YouTube or TikTok you'll find a variety of short video compilations and memes with over 7.6 million combined likes. 
Soupypoopy69 started as a "spam" account, Rotter said.
In one of his viral videos Rotter poked fun at Twitter memes about seniors interacting with freshman girls. 
Rotter's catchphrase became "original joke by soupypoopy69 do not steal it," he said.
"That blew up. And I was thinking like, 'why are people finding this funny?' And then I realized, that's why they think it's funny because I'm making fun of a trend."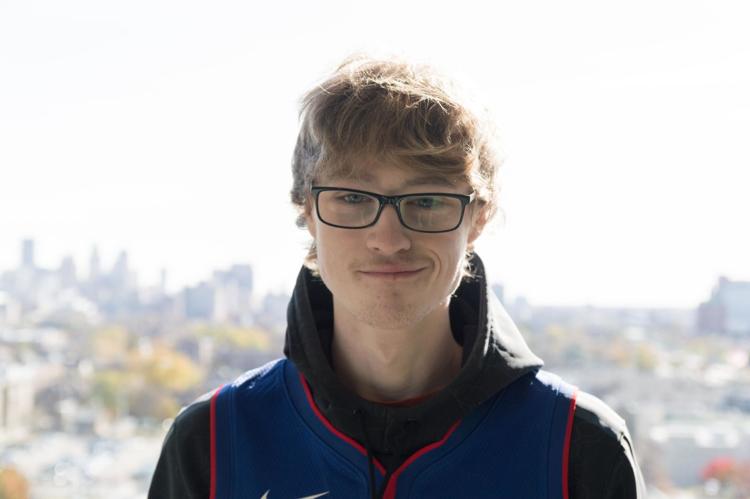 While his other account — CakeRecipe — can still be viewed, he is only active on the soupypoopy69 account.
"People would ask, 'Oh, aren't you that guy?'" Rotter said. "I would like, completely dodge the question and the reason why was because I eventually plan on moving to YouTube." 
But, Rotter was recently banned on TikTok, he said. 
He suspects that it was because some of his jokes were deemed inappropriate by TikTok, but is unsure because he is not part of the TikTok Creator Program.
The TikTok Creator Program —now called TikTok Next Level— is a higher level of membership offering tech support, analytics, early access and entrance into a community of creators, Rotter said.
"They don't tell the creators anything unless they accept the creator program," Rotter said. "I declined because one of the conditions is forfeiture of some of your content rights." 
In an Instagram post published Nov. 11, Rotter said he doesn't intend to start a new TikTok because he's been "having a lot more fun making YouTube videos."
Rotter posted his first video on YouTube Nov. 8, 2018 and has over 8,000 subscribers.
"Maybe one day I'll cave and start posting TikToks again, but for now I want to see if I can make my YouTube channel work," he said in the post. 
TikTok is an app where users can upload short videos and use filters, music and duet others users' videos for their content.
WSU students are joining the one billion users of the app.
"I watch TikToks because it's similar to Vine which got shut down," criminal justice student Kennedy Merritt said. "It (TikTok) is a platform where you can watch a bunch of short videos."
TikTok's mission statement is to "inspire creativity and bring joy," according to the company's website.
"I used to hate it (TikTok) and would only go on it to watch his videos but now I am addicted to it," Talia Rosander, history major and Rotter's girlfriend, said. "There's something about it that sucks you in."
Rotter often played multiple characters in videos. 
To pretend to be a girl in his videos, Rotter will throw a bed sheet over his head to imitate long female hair, Rosander said. Sometimes Rosander helps the viral sensation by recording or throwing content ideas at him.
"He's always been the funniest guy in the world to me, so it's been great to see others think that as well," Rosander said
Rotter has made money off TikTok from glitches it experienced with donations awhile ago, he said. He has currently signed with the media company Gas Media, which gives them rights to make copyrights on his behalf. 
Rotter said he feels there is a lot of creativity, but also a lot of copied work as well on the app.
"I feel like a lot of the app is just people regurgitating the same videos and trends, but some people try to do it in a way that makes them look more attractive," Rotter said. 
Grace is a contributing writer for The South End. She can be reached at gracereyes@wayne.edu
Cover photo by Jonathan Deschaine. Jonathan is the multimedia editor for The South End. He can be reached at jonathan.deschaine@gmail.com.