The Wayne State College of Engineering welcomed new additions to its hallways.
Abhilash Pandya, associate professor of electrical and computer engineering, said he wanted to create a welcoming environment. He said he asked student, Samantha Weslin, to create murals in the halls of the building.
Pandya said the walls of the building were "crying out for art."
"Engineering at its core is art. Equations are elegant. Function follows form. As I walked into the engineering building and then to our hall and then to my lab, I felt that it needed something inspirational," he said. "I had seen Sam's artwork and put two and two together. I am really hoping it really goes beyond the hallway and makes WSU an artistic place to be."
Weslin said she was picked because she attended Grosse Ile High School with Pandya's daughters and she worked as a student assistant in the electrical and computer engineering department. 
"D picked me to paint this mural because I've known him and his family for many years; his daughters are my best friends, and we actually went to high school together," Weslin said.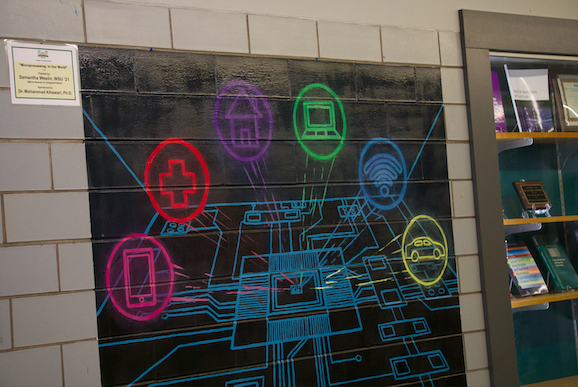 Following Weslin's first completed mural for Pandya, she received a request to commission another painting across the hall for assistant professor Mohammed Alhawari. In order to complete the piece for Alhawari, Weslin enlisted the help of Pandya's daughters in order to accurately portray a circuit board.
"Dr. Pandya's daughters helped me a lot. His daughter Maya, who is an electrical engineer, taught me how to design a functional circuit board that was accurate enough to incorporate into the mural. His daughter Keena and her friends helped me paint the finishing touches on the mural," Weslin said.
Some students say they enjoy the murals.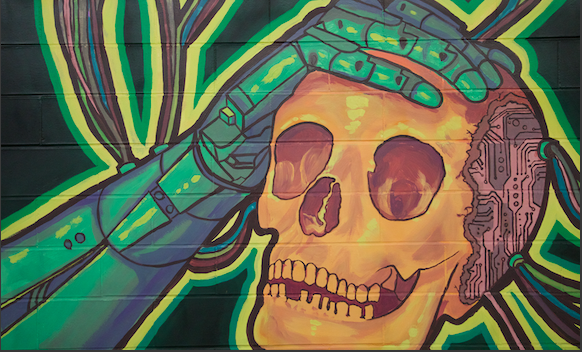 "Those murals are pretty neat, they definitely make these halls less of an eyesore," junior engineering student Nathaniel Williams said.
During the process of painting the murals, Weslin said she encountered multiple students who would walk by daily and compliment her on her progress. She said students would assist Weslin with small tasks such as laying tape and adding a primer coat, she said. She said it was a "heartwarming experience."
The long-term goal for these murals is to create an enriching environment for students to think and research creatively while not being intimidated by the notoriously difficult subject matter, Pandya said.
Weslin said the murals have different meanings.
"The murals symbolize slightly different things. Pandya's mural symbolizes a harmonic connection between man and machine," Weslin said. "Alhawari symbolizes the many different uses and applications of microprocessing in our world. Above all though, both murals have something in common — to beautify the halls and bring joy to the students that inhabit them."
Pandya said every hall on campus should be a canvas for passionate art students.
"I am hoping that it gets them to think about their research creatively, futuristically, and in a way that can be easily conveyed to undergrads, parents, prospective graduate students and others that are not experts in that particular field," Pandya said.
Arben Gacaferi is a contributing writer for The South End. He can be reached at arben.gacaferi@wayne.edu
Cover photo by Quinn Banks. Quinn can be reached at gn6960@wayne.edu