This article originally appeared in The South End's Winter 2019 Back to School print edition.
Wayne State has found a star in Mark Whalen, a music technology student and lead singer of Mark Whalen and the Buttermilk Boys — an indie-rock band consisting of Whalen, bass player Max Bourgeois, lead guitarist Colin Takata, drummer Ben Baird and keyboardist Malcolm Mosley.
The 19-year-old sophomore came to a cramped, dimly lit dorm room to answer questions about his music, along with how it feels to be a student at WSU with a growing fanbase.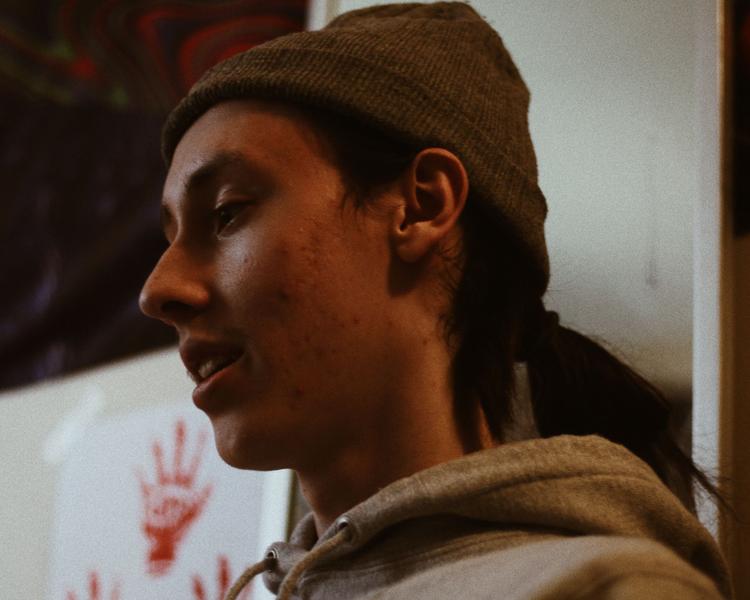 Whalen's popularity hasn't gotten to his head— he answered each question with a genuine sense of humor and excitement.
Whalen's stardom grew after the release of the band's first EP, "Someone to Be," which he wrote the summer before his freshman year of college. Following the release of the EP, Whalen and the band were asked to perform a live show for the first time.
"It was just a solo project," he said. "I
just said I would perform the songs with my name and you guys can be the backing band. And they said, 'OK, but we needed to find a name,' and we tried everything."
The birth of Mark Whalen and the Buttermilk Boys's funky name is a mystery to himself that may have been lost to time. Whalen sat in his chair in deep thought, attempting to remember why the band named themselves the Buttermilk Boys.
"I don't really know how we came up with the Buttermilk Boys, but at the time, we were making these rap songs. They were so ridiculous and over the top," Whalen said. "None of us can actually rap — except for one band member who is actually a rapper. So, we were making these raps as a joke and we called ourselves The Buttermilk Boys. We were rapping about, like, pancakes and ranch."
The band tried to think of another name for themselves before their second concert.
However, they couldn't come up with anything better, and the name eventually stuck, Whalen said.
While Whalen describes the band's music as indie rock, they experiment with other genres on their new album, "Morning Glory," which was released Nov. 16.
"Our last project was pretty simple indie rock," Whalen said. "I think that this next album is more synth-based. I try to venture out and make different sounding songs. Some are a little funkier, some more groovy."
How exactly did this lanky, wide-eyed teenager get to become a versatile, genre- bending musician? It may have something to do with his musical influences.
"I've just been listening to a ton of George Benson," Whalen said. "He's the man. No one will ever be smoother than that man."
Like many college students, Whalen is still figuring out future plans.
"I really don't know what my dream job would be, I'm still kind of figuring that out
as I'm here," Whalen said. "I would love to work in a studio. I guess my dream job would be to join an evil corporation like Sony or Capitol Records."
Whalen has both morals and talent. He critiqued music industry leaders for selling out.
"Oh yeah, Capitol Records and Sony, they are evil. They aren't in it for the music, just the money," he said.
Whalen said he's adjusting to his newfound fame on the Detroit music scene. The band has over 24,000 monthly listeners on Spotify and 1,180 followers on SoundCloud.
"It's really weird," Whalen said. "It truly came out of nowhere."
Whalen seemed to be puzzled when asked: "In your own words, who exactly is Mark Whalen?"
He laughed, looked up and down, and replied, "I'm a nice guy."
---
Cover photo by Jonathan Deschaine