During his first semester of college, Satyam Joseph, a finance and global supply chain management major, was looking for a group to join on campus, he said. He met members of Wayne Ki Awaaz during Festifall and decided to join. Since then, he has never looked back.
"I personally believe that a lot of freshmen don't realize when they come into college that if they don't find some sort of community, some sort of group to join, they get very, very lonely," Joseph said. "It's very hard to realize that until you find yourself in that place.
"Being part of a community, especially one that shares the same interests as you, being able to express those interests and really delve into them and enjoy them to the fullest is something that really helps people out and something that I really enjoy."
Wayne Ki Awaaz is a South Asian fusion a cappella group that brings together classical Indian and western music. In 2013, the group started performing at local concerts and events around WSU. The group began participating in competitions, affiliated with The Network of Desi A Cappella, last year and have competed in five so far.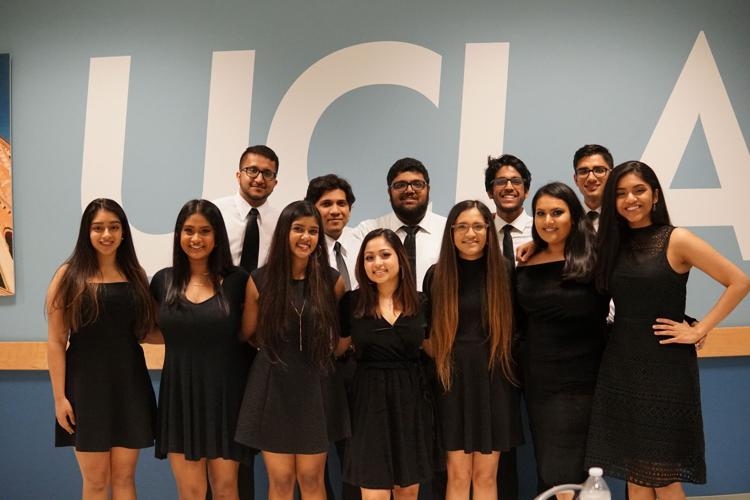 The group is comprised of 14 students from Wayne State and University of Detroit Mercy, none of whom are music majors.
Combining the two genres makes the music more accessible, Aneesh Hehr said, Wayne Ki Awaaz logistics chair and biology major.
"Obviously we haven't grown up in India, we're not exposed to that culture," Hehr said. "Having, through an a cappella team, that ability to learn those songs and get exposed to that aspect of the culture, I feel like it's super important knowing your roots."
On Feb. 2, Wayne Ki Awaaz placed third at the Sahana competition held in Los Angeles. Arjun Ramesh took home the prize for best male vocalist. Twenty-three teams applied for Sahana with only nine being chosen to compete.
This year, Wayne Ki Awaaz set out to spread the message of schizophrenia and mental illness by incorporating those themes through its performance.
"We actually went to the psychology department, met with the clinical psychologist, (and) properly learned about what schizophrenia is so we can portray it properly on stage," said Amanpreet Bhogal, a biology major who serves as Wayne Ki Awaaz captain along with Joseph.
At the competition, each team showed an introductory video before its performance. In Wayne Ki Awaaz' introduction video, Joseph portrayed a person with schizophrenia going through his day and what someone with schizophrenia experiences, Bhogal said.
"He (Joseph) was rocking back and forth in that video and so what we did was before the lights even went on we had him rocking back and forth on stage to kind of bring that video onto stage," Bhogal said. "After that every single member (of Wayne Ki Awaaz) was a voice inside his head and then everything was his struggle."
"We need to sort of inform ourselves more on schizophrenia and mental illness in general," Joseph said.
Bhogal hopes that Wayne Ki Awaaz will continue to expose members of its group and its audiences to different areas of Indian culture, she said.
"When I first came here, I was not exposed to Indian classical and it was mainly over the past two or three years where I learned more about it and really grew to appreciate it," Bhogal said. "I think if we continue to do this and bring the two different types of music together, we can do the same not just for me but for others."
Combining the two different genres also broadens the type of audience that Wayne Ki Awaaz performs to, Joseph said.
"It also helps those who like Indian classical music more perform to a more general audience because otherwise they're only going to have a specific set of people coming to their performances," he said.
One thing that Wayne Ki Awaaz would like to see in the future is more diversity in the group, Bhogal said the group is not limited to Indian students.
"When we went to mixers at different competitions, the amount of diversity that other people had is something we want to incorporate here because (WSU) basically stands for that," Bhogal said. "We would love to have that on our team."
Hehr said he enjoys being a member of Wayne Ki Awaaz because it provides a break from his studies.
"All of my like major, my extra curriculars, my volunteering, that's geared towards more science things," Hehr said. "This (Wayne Ki Awaaz) is kind of a breath of fresh air in which I can recuperate, get out of textbooks and participate in something I find stress relieving more than anything."
While done competing for the year, Wayne Ki Awaaz sets its sight on the future of the group.
They are thinking about collaborating with another a cappella group on campus, Melodytroit, and potentially compete at the International Championship of Collegiate A Cappella with them, Bhogal said.
Auditions for the group will take place the second week of April. More information on auditions will be available on Facebook. Wayne Ki Awaaz will perform at the ISA Culture show next month. 
---
Jack Filbrandt is arts and entertainment editor of The South End. He can be reached at jackfilbrandt31@gmail.com.