Each summer at Boys State, 1,000 Texas high schoolers play an integral role in government operations. The students —elected by their peers— hold various positions in the city, county and state governments. 
Their term lasts a week, holds no true power, but gives participants an idea of the legislative process. 
An Apple Original Film and A24 Release, "Boys State" is a documentary that follows four subjects throughout the program: René Otene, Steven Garza, Robert MacDougall and Ben Feinstein.
Directors and producers Jesse Moss and Amanda McBaine followed the tensions of masculinity, community and political differences in "Boys State."
"We knew that(political divide) was gonna be dramatic, and we hoped it would be dramatic," McBaine said. "It was a space we wanted to be in because there aren't that many of those spaces in our country."
The subjects stand out because of their individual traits, McBaine said.
"Steven, Robert, René, and Ben are all so important because they understand history, but are still engaged to move the country forward," McBaine said.
McBaine said there was a vision of how the film would play out.
"We did have a tiny checklist when we were looking for kids and part of that was diversity —in background, in life experience, in socioeconomics, but also in politics," McBaine said. "Boys State and Girls State are these places where people with incredibly different politics are forced to come together face-to-face and talk it out."
MacDougall said he went into the Boys State with a narrow and cynical mindset. 
"I had the expectation that that room would be a very red, one-minded place," MacDougall said. "I made the decision to run based on that expectation, and that eventually led to me losing to Steven in our own party primary because Steven ran with what was important to him."
During the program, the only control and supervision the boys have are each other. They choose to elect, impeach and finalize the mock laws and bills.
"There needs to be a balance of what you believe in and what will get you elected," MacDougall said. "That's going to leave you having those tough conversations and make those compromises. Understanding those around you, and shaking hands across the aisle and seeing the other side are important."
In the end, MacDougall said he noticed the vast majority of people wanted the best for their city, state and country, but how everyone wants to get there is different. However, he believed it can be done without having to compromise big ideas.
Feinstein's concepts on elections and voting were similar to MacDougall's. He said values and the ability to win an election are mutually exclusive.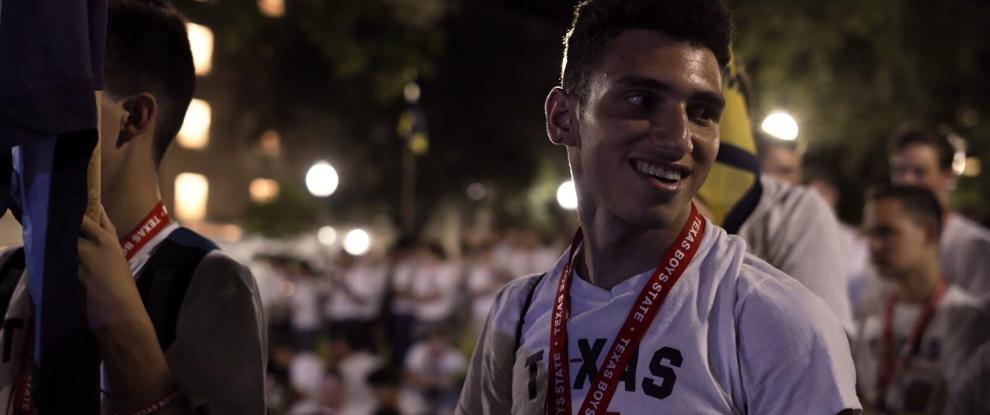 "There's a concept in parliamentary governance called Burke's Dilemma that says you can win an election by being seen as morally upright and trustworthy," Feinstein said. "There have been a lot of successful politicians like Bernie Sanders that do this, but people like George H.W. Bush has done a good job at playing in the middle."
People underestimate how much voters vote on personality and integrity, Feinstein said. He would rather vote for someone he disagrees with and is honest, rather than someone he agrees with and doesn't follow up with their morals.
Being a Mexican immigrant, Garza struggled more than most of the participants in Boys State, due to it being a majority-white group. 
"The contingency I was running wasn't necessarily diverse, but it did go against my entire identity as a political and racial minority," Garza said. "I wanted to win, but I also didn't want to betray my values."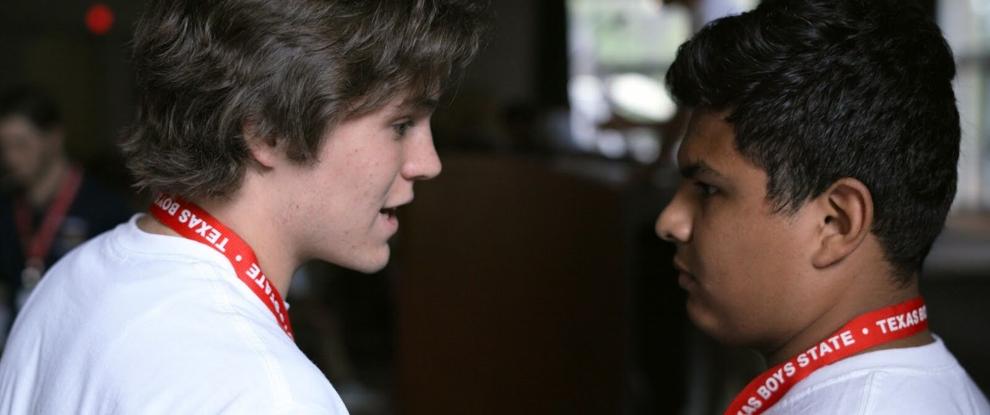 McBaine and Moss said they were looking for someone like Garza to document in "Boys State." They called him the soft-spoken underdog, whose values differed from the other boys.
"Something I struggled with was seeing so many abhorrent views being expressed and cheered for by the boys," Garza said. "I didn't know how to respond. I wanted to tell them to shut the hell up, like when people are talking about women's reproductive rights with no women in the room, but then I would've gotten booed, lost the election and that'd be the end of my story."
At one point in the election, participants began to create racist videos and Instagram accounts targeting Garza and Otene. The two maintained their professionalism, but participants were consistent in disagreeing with them and wanting them out of leadership.
"I tried appealing to their better selves, and for those like me and René, how does being a minority, politically and racially, win a run-off and be the nominee?" Garza said. "It's all about appealing to people's better selves, and our generation is not too focused on party affiliation, but rather on what policies are being proposed."
Since the film is 100% unscripted, viewers can resonate with it emotionally, Moss said.
"With 'Boys State,' the boys could make us laugh, cry, and think, and sharing this film and continuing the conversation have been a joy," Moss said. "The film is set in time, but hopefully it continues discussions on democracy and engagement. Democracy is not a spectator sport, and despite their differences, these guys are engaged."
Being able to work in a bipartisan manner still holds value, even with our nation's political divisions, Garza said.
"Can we put aside labels and sit down with some sort of agreement? I think I was able to do it at Boys State and wish more politicians around the country would sit down with their opposition and go home knowing they did something good for the American people," Garza said.
There is significance in engaging with others across political divides, Moss said. 
"The fact it creates a space that's sometimes hard to take in, but accepting people from different political backgrounds is really hard to recreate in real life," Moss said. "Families are often stuck in political silos, and hopefully this film sparks conversation on our democracy."
"Boys State" is now available to stream on Apple TV+.
---
Marisa Kalil-Barrino is arts and entertainment editor at The South End. She can be reached at artsandentertainmenttse@gmail.com.
Photos provided by A24.