This story originally appeared in The South End's fall 2019 Back to School print edition.
In April of 2018, the Detroit Institute of Arts and Midtown Detroit Inc. announced the DIA Plaza and Midtown Cultural Connections design competition. 
The competition planned to create a dynamic, inclusive and interactive cultural center in Midtown, according to a DIA press release.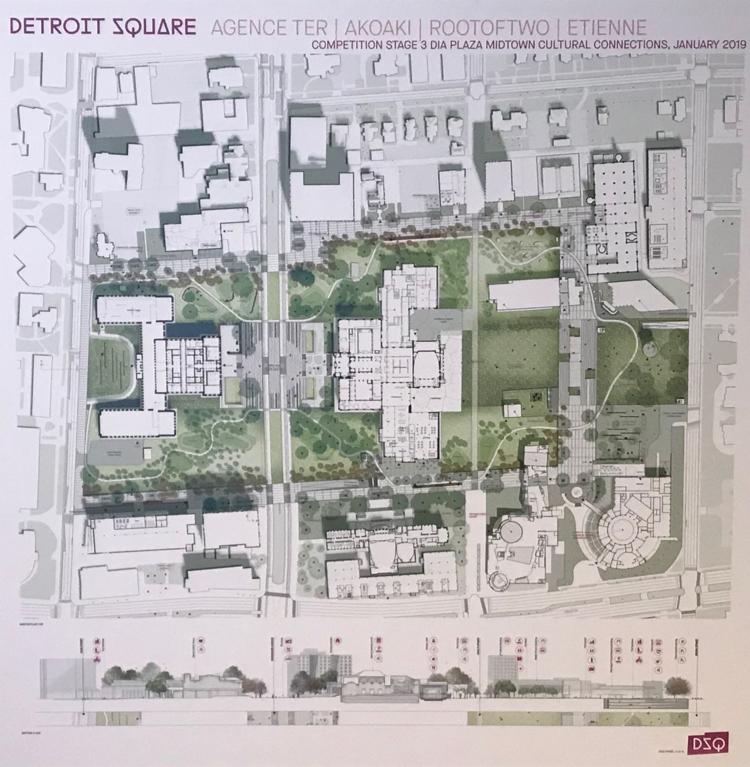 Landscape architecture and urban design teams from across the world were asked to submit plans to redesign an 83-acre area in Midtown with the DIA at its heart while connecting 12 cultural institutions in the Midtown neighborhood.
These cultural institutions include the Charles H. Wright Museum of African American History, College for Creative Studies, Detroit Historical Museum, Detroit Public Library, Hellenic Museum of Michigan, International Institute of Metropolitan Detroit, Michigan Science Center, Detroit's Scarab Club, University of Michigan's Rackham Building and Wayne State University.
A project named Detroit Square was announced as the winner of the design competition on June 10. French-based landscaping firm Agence Ter came up with the design along with architecture firm Akoaki, based in Detroit; roofoftwo, an Ann Arbor design studio; and University of Michigan professor Harley Etienne. 
"Agenece Ter met with stakeholders at Wayne State earlier this year to learn more about the university's background, history and outlook regarding its location in the Midtown community," said Ned Staebler, WSU vice president for economic development and DIA Plaza steering committee chair.
"The goal is to get as much input possible into the plans so that we can be connected to the DIA Plaza process as it goes forward," Staebler said. "We want to make sure that visitors to the cultural center are also being easily discorded onto our campus and back and forth because we believe that you get a lot of synergy between the two sets of institutions."
Agence Ter's plan was judged in view of the stakeholder's vision and values of the district, Staebler said. Conceptual planning of the design will take place over the next 12 to 18 months to finalize plans for the district — with all institutions being involved.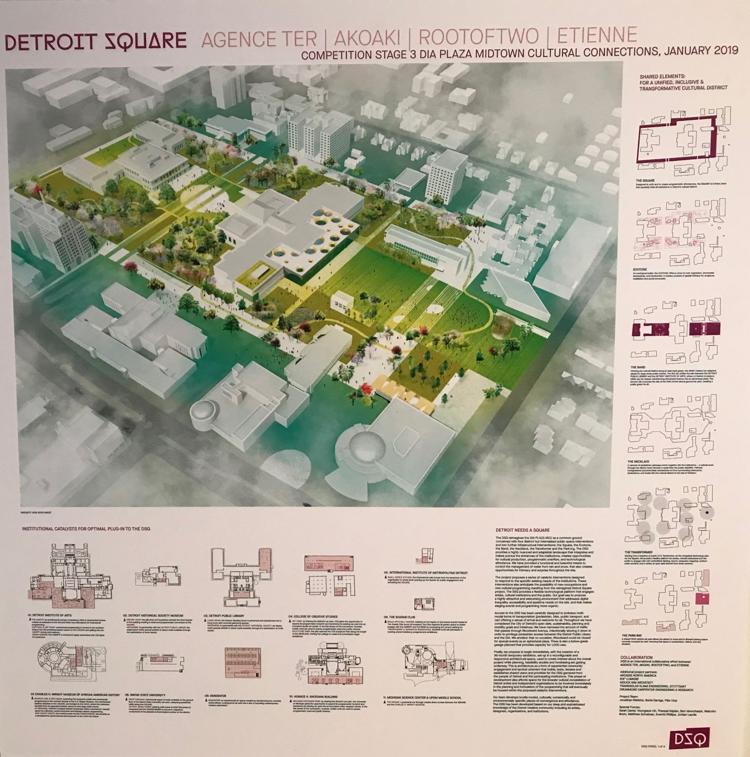 "Many of the stakeholders want to see porous borders and the ability for more walkability and more continuity in the district," Staebler said. 
Last month, Agence Ter met with WSU's master planning consultant team — DumontJanks.
Staebler said there is an importance of brand identity, so the community is aware of when they enter and exit the university's campus. WSU is working toward brand identity through their master planning efforts.
"What (Agence Ter is) looking for right now is kind of an overview of Wayne State, an overview of our master plan to try to start to understand some of those connections, and synergies and see kind of how that turns into what their plan is," Director of Planning and Space Management Ashley Flintoff said. 
Those involved have been able to see similarities between WSU's master plan and the DIA Plaza plan.
"I think there's some really direct correlations between our two ideas and two plans," Flintoff said. "I think there's also some ideological and functional connections that we both see and have verbalized and want to explore further."
DumontJanks and WSU's master planning framework designed an east to west flow from the Meyer & Anna Prentis Building, through Gullen Mall to housing located on Anthony Wayne Drive, Staebler said. Agence Ter's design for the DIA Plaza envisioned an east to west flow from CCS, through the DIA and new plazas surrounding the museum, across Woodward Avenue and into DPL.
"You don't have to be an urban planner to realize that those two east-west pathways connect at Cass (Avenue), at the library (DPL) and at Prentis," Staebler said. "I think a lot of work is going to go around what elements of the cultural center plan, and the Wayne State plan, can be carried across and go both ways."
A student design competition ran parallel to the professional design competition for the DIA Plaza. This allowed students from various colleges and universities to work together, coming up with their vision for the DIA Plaza.
Throughout the student design competition, teams were able to consult with experts in stakeholder engagement, public safety, physical design and parking and transportation.
A team consisting of students from WSU won both the jury award and people's choice award in the student design contest.
The student winners were Amy Xiao Zhou, Kristin Shaw, Gus Navarro, Shelby Holmes, Allison Elam, Heather Washington, Tori Williamson, Krupa Vora, Jessica Stroble, Mariah Bosquez and Ashaki Zeigler.
WSU's team stood out due to their use of engagement with people in the community, Emily Thompson, WSU place-based initiatives manager, said.
"They talked with folks in our neighborhood in a really engaging and creative way. They popped up on street corners and surveyed folks who were in the neighborhood," Thompson said. "Often when planning firms do projects, they hold public meetings and you get different people coming out to public meetings than you do walking down the street."
The student design competition was structured so the winning team would be able to present their design to the professional firms, Thompson said.
An additional student design competition is being planned for winter 2020, Thompson said. 
This competition will focus on how the DIA Plaza plan and WSU's master planning efforts can start to be welded together, with a focus on DPL and a connection to WSU's campus.
"We're still working with stakeholders to sort of narrow that down and come up with something that everyone is excited about, but the general idea is that it would be about activating physical space and then creating some better connection between the campus and the library," Thompson said. "Through our master planning effort, one of the things we learned was that students really enjoy and spend quite a bit of time at the public library."
WSU hopes to give students an easier opportunity to experience the amenities around them.
"We want to encourage our growing campus population to experience the great urban city and the cultural amenities that are here," Staebler said. "I think building that connective tissue between the two is a prime importance to Wayne State."
Student involvement has been important to WSU's master plan and something officials hope to continue to pursue going forward.
"Students are prime users of this space and the best practice when you're designing space is to get the users of it to give you as much feedback as possible," Staebler said. "We think students are a key player in this role — in this process."
Jack Filbrandt is the Arts and Entertainment editor for The South End. He can be reached at jackfilbrandt31@gmail.com
Cover photo by Jack Filbrandt