New Michigan Media hosted the Minority Media Summit at Wayne State on July 24. The event focused on how Detroit-based minority media outlets can help increase participation for the 2020 census.
"25 percent of Michigan is minority and over half of Wayne County isn't white," said Hayg Oshagan, executive director of New Michigan Media and WSU communications professor. 
Oshagan said for many minority groups, ethnic media is essential for those communities.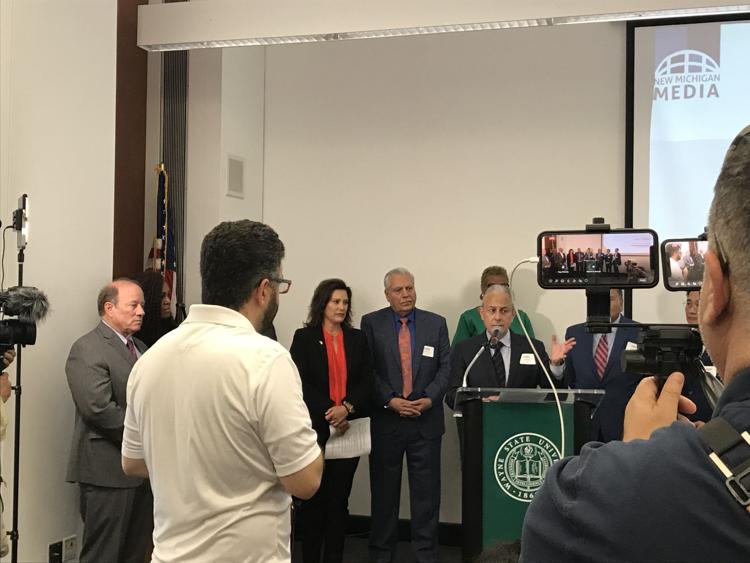 "What we have assembled here, beyond media, is the leadership of the minority population of this region," Oshagan said. 
Michigan Gov. Gretchen Whitmer also attended the event and said, "We all need to be counted as this census looms. You can't love Michigan without loving the people in it who call it home."
"Republicans and Democrats are joining forces on this to make sure we have a full and complete count," she said. 
In June, by executive order, Whitmer created the Complete Count Committee to assist and promote awareness for the census. She said it's a bipartisan committee made up of elected officials, organizers and community leaders.
"They (committee members) are working on outreach plans to break barriers that may impede a full count," Whitmer said. "They'll help to ensure everyone, no matter their community or socioeconomic status, everyone participates in this."
Importance of census 
The census impacts the amount of money states receive from federal funds, which is why the count is so important, Whitmer said. 
"Federal funds, grants and support to states, counties and communities are based on population totals and breakdowns by sex, age, race and other factors," the U.S. Census Bureau's website states. 
The census distributes over $675 billion in federal funding per year for schools, roads, hospitals and other programs, according to the website. Due to the 2010 census, Michigan received $14 billion in federal funding.
Detroit Mayor Mike Duggan said it's important to bring awareness that no other government agency has access to the information provided in the census for 70 years.
"The minority undercount is real," Duggan said. "When the government knocks on doors of families of color and says 'How many children do you have?' or 'How much money do you make?' There is more distrust of government than tends to be in the Caucasian households."
He said it's important for minority communities to hear from those they trust, and that includes hearing from minority media outlets. 
WSU's census goals, hopes to help Detroit 
Student Senate President Stuart Baum said the senate is working with a committee on campus to better inform students about the census. This program will focus on engaging, educating and empowering students on the census's importance. 
Carolyn Berry, associate vice president of WSU marketing and communications, said it's critical for students to participate in the census. 
The student senate committee will launch around the fall, and Berry said they've been attending census meetings held by the city.
"The biggest thing is getting students to complete the census. The census is so critical to the city and so many of our students, whether living in a residence hall or an apartment around campus, can participate in the census," she said. 
Berry said being counted in the census is not about your permanent residence, but rather where you're sleeping. 
"If you are living in a dorm room on April 1 then you are eligible, and we would hope, to complete the census as a part of the city of Detroit," Berry said. 
The city is in talks about on-campus census spots, Berry said. The committee is looking at tables in the Student Center or WSU libraries where students can participate and get counted.  
"The decisions we make in April 2020 will have financial implications on the city for the next 10 years," Berry said. "I think it a really cool opportunity for students to leave an impact and to engage in the city and participate and hopefully have the city reap the benefits of completing the census."
---
Susana Hernandez is managing editor of The South End. She can be reached at susana.hernandez@wayne.edu.