Students and guests gathered at Gullen Mall outside the Purdy/Kresge Library to watch a ceremony in honor of Indigenous Peoples Day on Oct. 14.
This ceremony is the 6th one held on Wayne State's campus, and marks the 27th anniversary of the Peace and Dignity Journeys relay — where two large groups of runners start their relay in either Alaska or South America. Although the runners start on different sides of the world, they all end at the Pyramid of the Sun in Teotihuacan, Mexico in support of Indigenous people across North and South America.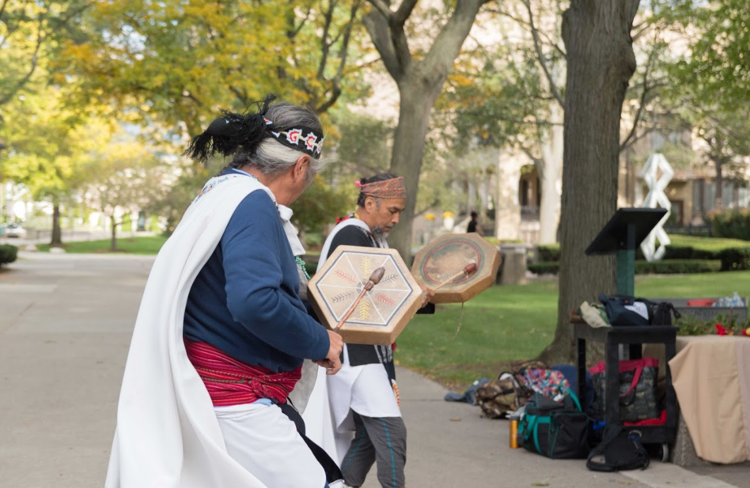 The ceremony comes at a time when Michigan legislators are considering a bill that would replace Columbus Day with Indigenous People's Day.
Gov. Gretchen Whitmer issued a proclamation stating and naming Indigenous Peoples Day to be Oct. 14.  However, it can't be law until Michigan legislators sign off on it. 
"We've been praying for a change from the name Columbus Day to Indigenous Peoples Day because we couldn't celebrate it like the culture in the United States has done," Celia Perez-Booth, a retired counselor from Mott Community College and ceremonial grandmother of the event said, "It's why we did the Peace and Dignity Run. I ran in the relay run from Mexico representing the people from the south."
A traditional dance based upon an Aztek-Mexica tradition, called "The Blessing of the Four Directions," began the ceremony.
"All peoples have their own ways of praying, but our way of praying is through dance," said Alberto Ramirez, the ceremony's head dancer.
The ceremony concluded with the draping of the four colors, where speakers tied prayer flags around a tree.
"The tree represents peace and dignity, and the colors — yellow for the east, black for the south, red for the west and white for the north — represent the bond of humanity for people of the earth," Wayne Wilson, a representative of the Folded Arms Clan and one of the ceremony's original organizers said. "It recognizes we are all related, even though some of us might not think that way."
"We are living during the closure of an epoch and the beginning of a new one," Wilson said. "It's part of a transformation where we are merging into the realization of the oneness of mankind as a family together celebrating peace and dignity."
---
Sean Taormina is The South End's featured editor. He can be reached at sean.taormina@wayne.edu.