Wayne State School of Social Work's student project group and Michigan-based Caring Majority hosted a town hall at the David Adamany Undergraduate Library's Bernath Auditorium to discuss elder, child and health care rights in Michigan on Oct. 23.
Panelists included faculty, staff, students and individuals with personal ties to the caretaker infrastructure issues in Michigan.
Julie Klein, a first-year master's student in social work, said she became an uninsured patient with chronic migraines. 
Klein said she's been seeing a specialist for 14 years, but because she didn't work or go to school full time, Klein didn't qualify for Medicaid.
"I'm in this weird bind where I have to decide whether I'm gonna quit my job and go to school full time, or if I'm gonna cut my hours in school and start working full time, which is actually what I did," Klein said. 
Even with insurance, her monthly medication costs her $500 for nine pills, she said.
"I had to decide if my pain was bad enough to medicate myself. What if I take the pill now but next time it will be worse?" Klein said.
Abdul El-Sayed, WSU scholar-in-residence and former gubernatorial candidate, said it's important to provide basic standards of care for children and the elderly.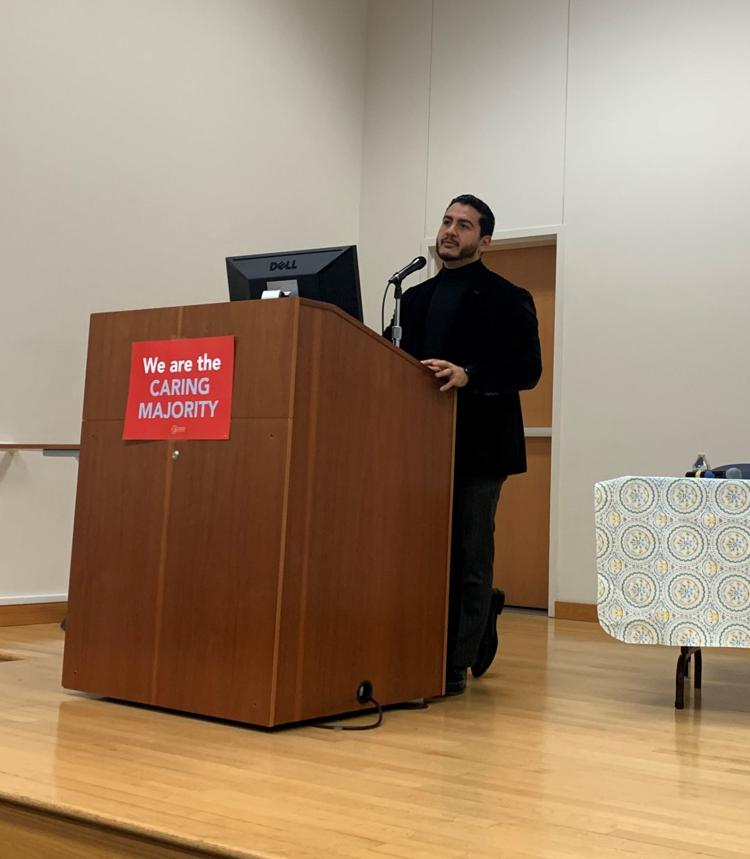 "(We need) to come together and decide that universal family care ought not just to be a privilege, not an entitlement, but ought to be a right in this country," El-Sayed said. "if we believe that we owe it to our young and our old to make sure they have basic needs to magnify life, we will come through and decide this government certifies and dignifies those values."
According to the United Way's ALICE Report, 43% of Michigan households currently struggle to afford necessities like housing, child care, food, technology, health care and transportation. 
Natasha Windless, a recently single mother of two and a Master of Social Work student, said there are long wait lists and high costs for enrolling children into most child care systems. 
"My (former) significant other and I, we couldn't really afford child care. (It) averaged about $700 and that's just on the low end," Windless said. 
Although her income is "below average," Windless said programs denied her because her income wasn't low enough and didn't pass the qualifying threshold. She said the low-income restrictions are one of the biggest barriers to qualifying for subsidized or reduced-cost child care. Windless said she's applied to child care programs in the Department of Human Services, Macomb Community Action, Wayne Metropolitan Community Action Agency and Matrix Human Services. 
In 2015, the Academic Senate's Facilities Support Services and Technology Committee conducted a daycare survey. The study revealed out of 1,848 participants, the majority of people are in need of child care services. 
Almost 400 participants said their children are staying with a friend or family member, and 310 said their kids are in day care. The study surveyed undergraduate students, graduate students, staff, and faculty, but participants who demonstrated child care needs were mainly undergraduate students and staff, according to the study. 
According to Caring Majority, a long-term care bill was passed in the state budget. The bill, House Bill 4674, created $100,000 in match funding from the state legislature, which implements the study of public, private, and public-private care options in Michigan. Caring Majority also raised $200,000 in match funding for the long-term care study from the Michigan Health Endowment Fund. 
For more information and resources on elder care, visit https://www.michigan.gov. For child care options, visit http://greatstarttoquality.org.