A C-SPAN bus equipped with a mobile classroom and a production studio, parked at Wayne State's campus Thursday morning to engage with students, faculty and community members. 
C-SPAN is a public affairs TV network that covers the federal government, and stopped by Gullen Mall as a part of their 2020 election battleground state tour, according to a news release by WSU.
"We visit colleges to tell them about C-SPAN what we do, and how they can incorporate our resources in the classroom," Ivette Lucero, C-SPAN marketing representative, said.
Students had the opportunity to tour the bus and participate in the interactive programs, which Lucero points out in the video below. 
C-SPAN interviewed students about their thoughts on the 2020 presidential candidates. Freshman bioengineering student, Daniil Grubich, said he's mainly focused on two issues during the presidential race. 
"One is gun-violence reform and the other is a loan forgiveness program. I like Warren's agenda the most," Grubich said.
Lucero said C-SPAN is different in comparison to other media outlets.
"We are a little bit of a different media outlet: we don't have commercials, we don't do editing, we don't have commentary," Lucero said.
C-SPAN provides free archived content on their digital archives. The media organization has more than 252,000 hours of raw video footage that students can use for assignments or research.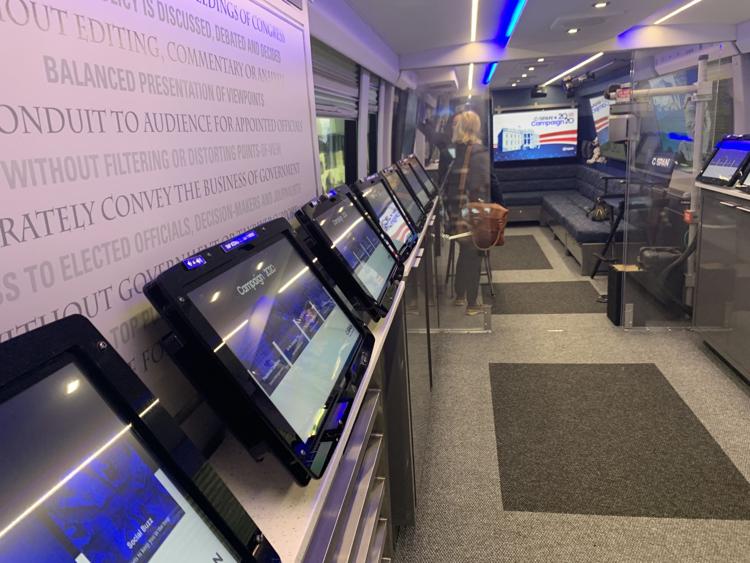 "We use our platform to give an audience a front-row seat in Washington, and what's happening in the government, so people can make up their own mind about what they see — rather than have somebody tell them," Lucero said. 
C-SPAN ran a live broadcast at 8 a.m. featuring Richard Burr — assistant city editor for politics and government editor for The Detroit News. Burr reported current Michigan news relating to the 2020 presidential election, and he reported on the current proceedings on Capitol Hill. 
Burr said Amy Klobuchar, Elizabeth Warren and Bernie Sanders are the only three presidential candidates who have visited the strikes at the General Motors Detroit-Hamtramck Assembly, showing their solidarity for union workers.  
Burr further reported about the seven Democratic U.S. Representatives from Michigan that support Trump's impeachment inquiry: Rashida Tlaib, Brenda Lawrence, Dan Kildee, Andy Levin, Debbie Dingell, Haley Stevens and Elissa Slotkin. 
Among the other 11 battleground states, Burr said Michigan has a critical role in the election since Michigan has swing-state status and can either vote Democratic or Republican.
Link to the video showing the bus's interior can be found here: https://www.youtube.com/watch?v=PyTKBGJj0I0
---
Xenya Burdo is a contributing writer for TSE. She can be reached at gr5344@wayne.edu.