The Wayne State campus community celebrated its annual homecoming week in person from Oct. 4 to 9.
Homecoming activities were held virtually in 2020 due to the COVID-19 pandemic, said Dean of Students David Strauss. 
Strauss said this year homecoming was needed more than ever to remind WSU students of the positivity of campus life.
"The Campus Activities Team did a lot of activities and those were really fun and well attended," Strauss said. "...everything went really well so I was really excited about that and I was really excited that we could have things in person."
Last year's virtual homecoming court wasn't comparable to the in-person experience, Strauss said.
"It's just not the same as being out there on the field," he said.
WSU graduate law student Ameera Hashwi was a member of the 2020 Homecoming Court. Hashwi said the COVID-19 pandemic significantly affected her experience.
"Sadly there wasn't an award ceremony due to covid. We were sent an email congratulating us and we received our awards in the mail shortly after," she said.
Hashwi said she decided to apply for 2020 Homecoming Court because of her appreciation for the campus community. 
"I would have loved to celebrate in person because I believe that homecoming is one of the events that brings everyone together," she said.
Geetika Guha, a senior psychology major, was selected to be a member of the 2021 Homecoming Court. In an Oct. 11 email to The South End, she said it was an honor to be chosen. 
"To me, being on court allows me to show other students that they can find their purpose here at Wayne State," Guha said. 
Guha said she found her passion for teaching and medicine while being a student at WSU. Her experiences helped her grow amidst her own identity struggles.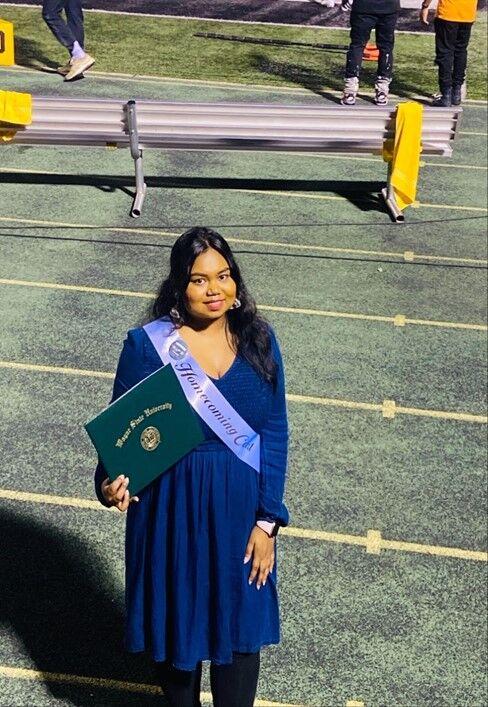 "As a Bangladeshi-American womxn, I found it really difficult to navigate my purpose," she said. "Joining different organizations at Wayne State and exploring out of my comfort zone really helped me and everything sort of fell into place."
The WSU Department of Athletics enforced COVID-19 safety precautions, Strauss said.
"Guests had to show their daily screener before being let into the game, and WSU students had to show their screeners as well and they were given a sticker to show they had been screened," he said. "Those who didn't complete the screener were required to wear a face mask."
Fellow 2021 Homecoming Court member Bella Barrie said her story is similar to Guha's.
"I applied to court because I felt so supported and reenergized by my fellow Warriors and I wanted to give back to that," Barrie said. 
Barrie said she was thankful the festivities were in-person, as she doesn't know whether she would have participated virtually.
"I am not normally a person that enjoys being the center of attention," she said. "When I finally heard my name being called (to receive her certificate from President M. Roy Wilson), I couldn't do anything but smile, however."
---
Amelia Benavides-Colón is the news editor for The South End. She can be reached at hd4634@wayne.edu. 
Cover photo of five of the eight members of the 2021 Homecoming Court standing on Tom Adams Field, awaiting presentation of their certificates. This ceremony was held during half-time at an Oct. 9 Homecoming football game.
Photos provided by Geetika Guha.