As Muslims across the world observe the holy month of Ramadan during the COVID-19 pandemic for the second year in a row, Wayne State Muslim students are having to wrap up the semester while fasting as well.
Ramadan started April 12 this year and is expected to end May 12. During the month, Muslims fast from sunrise to sunset, attend nightly prayers, as well as celebrate with their friends and family.
With the holy month taking place during the end of the semester and final exams, students have had to adapt and find ways to balance both but fasting in a digital environment has made the month less tiresome, said senior business student Lindita Dauti. 
"School has always come first for me but now that the holy month of Ramadan has arrived I have a new priority," Dauti said. "Some days are harder than others but it makes it even more worth it. I find that school, assignments and even lectures make time go by fast when fasting which essentially makes it easier."  
Since most WSU classes are virtual during the pandemic, fasting has been much more tolerable for students, said Muslim Students' Association President Nuha Malik. 
"As always, there is still this balance that students are trying to strike between studying for finals and making the most of this month," Malik said. 
Junior computer science student Reeham Katbey feels the same, she said. 
"Digital school has made Ramadan significantly easier to practice. What typically tires me out especially while fasting is walking around campus. However, fortunately, I have the comfort of studying from my own bedroom," Katbey said.
The month of Ramadan is more than just fasting for observants. Many also use the time for social activities and group prayer. With the ongoing COVID-19 pandemic, as well as the stresses of exams, students have had to change their routines, Malik said. 
"The social life of Ramadan has been quite different this year and last. Going to the mosque for taraweeh (nightly prayers) at night and having iftars (meal which breaks the fast) with family and friends are cherished social aspects of the month, but they have been scaled down to ensure our and our community's safety," Malik said. 
The pandemic has also affected WSU's resources and hours of operation. In previous years, some buildings on campus were open 24/7, now many close right around the time Muslims break their fast.
In an email to The South End Monday, WSU Director of Communications Matt Lockwood said there are still 24/7 services available to students. 
"Wayne State has continued to offer academic resources to meet students' needs. While some facilities are operating under revised schedules due to pandemic safety protocols, after-hours academic support is available to students via the Libraries' 24/7 Ask a Librarian Tool," Lockwood said.
The David Adamany Undergraduate Library is open by reservation 9 a.m. to 9 p.m. Monday through Thursday. It's open 9 a.m. to 6 p.m. Friday, 12 p.m. to 4 p.m. Saturday and 11 a.m. to 7 p.m. Sunday. 
WSU has also sent faculty a flier encouraging instructors to be mindful of Ramadan.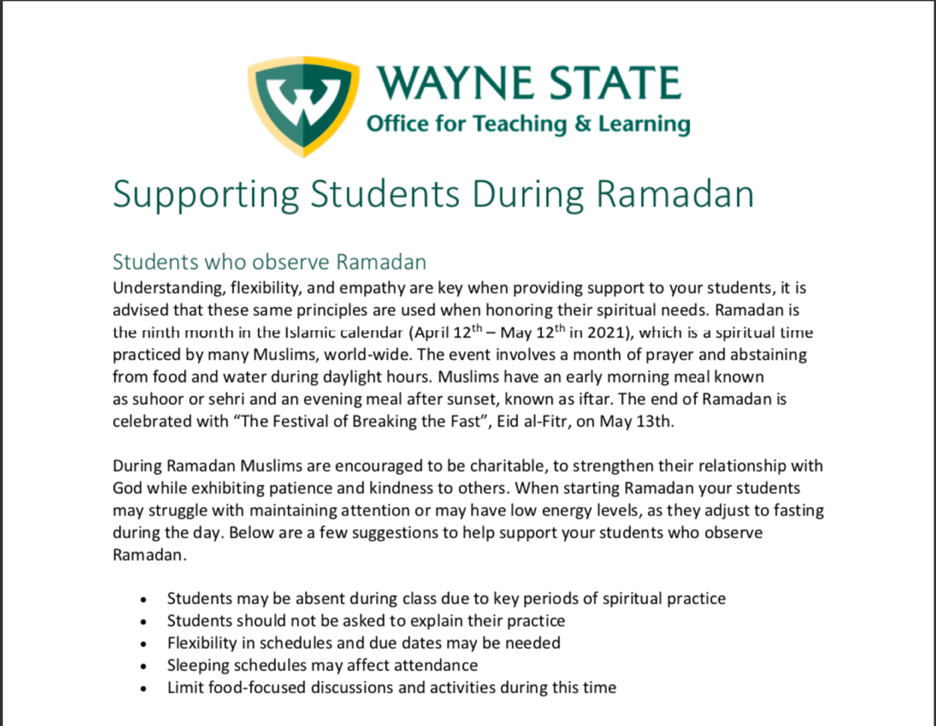 "As with all religious holidays, faculty are encouraged to be cognizant and provide consideration, but are not required to make any changes to their syllabus," Lockwood said.
Faculty must recognize Muslim students' needs during the holy month, while maintaining an equitable learning environment for all students, Katbey said.
"I do think professors should be more considerate of students who are fasting since it does hinder us from putting forth our best effort into the work we do," Katbey said. "However I also believe that we're also responsible for managing the time we use while we aren't fasting towards studying so that professors can treat both practicing Muslims and non-Muslims fairly.
The winter 2021 semester and Ramadan conclude within a week of each other. 
"Being able to finish this Ramadan fasting, graduating and going to work will be more rewarding than being able to eat during the day," Dauti said. 
Malik said although the way the holy month is celebrated may have slightly changed, core aspects live on. 
"The essence of this month - reflection, awareness of ourselves and our actions and gratitude remain present and are in fact even more apparent in this time than in any other," Malik said.
---
Arben Gacaferi is a correspondent for The South End. He can be reached at newsreportertse@gmail.com.
Cover art created by Dori Gross, graphic designer for The South End. She can be reached at gh6421@wayne.edu.