As students go about their day at Wayne State, WSU employees are the hidden figures helping students work toward success. From making breakfast and assisting students in the library to keeping classrooms and bathrooms clean — WSU employees have students' backs for every all-nighter and early class.
Rise and Shine:
Monday through Friday, from 8–10 a.m., Norm Benge makes omelets for students in the Gold 'n' Greens cafeteria. He has worked as a line cook at WSU for seven years.
Talking to people makes his day a little easier, faster and less complicated, Benge said. 
"I feel good when I'm communicating with people and working at the same time," Benge said. "It makes me feel real good, and the bosses like it." 
He learned most of his cooking skills from his mother, who was the best cook in his family, Benge said. Some of his favorite dishes his mother made were Spanish rice and macaroni and cheese. 
"There were eight of us, so she basically had to cook every day," Benge said. 
Growing up, Benge and his siblings often had to cook for themselves as their mother worked, he said. 
"We all had to learn (to cook)," Benge said. "She would prep a lot of things for us and say, 'Well there it is in the refrigerator. Now all you guys got to do is cook it.' So, it's self-learning."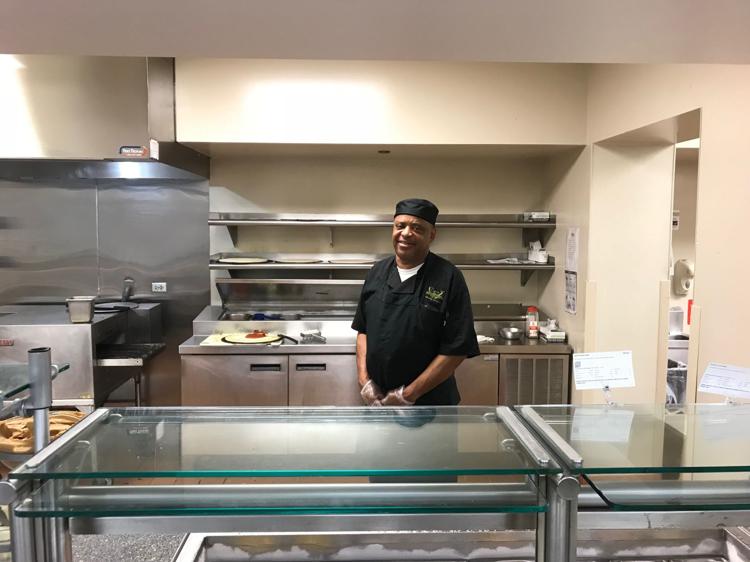 When Benge is not working, he enjoys ballroom dancing, he said. He first learned to ballroom dance when he was a regular on the dance show, "The Scene," that aired from 1976 to 1987 on WPGR-TV. 
While in high school, a few of Benge's friends knew the owners and promoters of "The Scene" and would go to the studio, often taping two or three episodes.
"It was in the Disco Era, you know John Travolta and stuff like that, so everybody was dancing with the disco ball," Benge said. "That's what we did every weekend we dressed up and we'd go out dancing." 
The most fulfilling part of his job at WSU is getting to know new customers every year and cooking for students, Benge said. 
"I'm always looking forward to meeting new people," said Benge. "I want to satisfy you guys. I want to make sure you're happy."
Late for Class
As students are sleeping though their alarms, Jacqueline Adams, a janitor at WSU, is climbing out of bed at 3:30 a.m. to arrive on campus and begin her day by 5 a.m.  
"Not having to get up so early is my vacation," said Adams. 
Adams has been working at WSU for 21 years and describes herself as "jack of all trades and a master of none." She cleans floors four and five of Manoogian Hall. 
Adams enjoys working at WSU because of the people who work and attend school here, she said.  
"It's like my second family and I believe in family first," Adams said. Over the years, Adams has built relationships with staff and students. 
Adams said she realizes how stressful classes can be for students. 
"I want you to make your parents and your siblings very proud, and become somebody — and become a millionaire — and come and scoop me and I can work for you," she said.
Adams said that talking to people throughout the day breaks the monotony of her job. 
"You (students) go crazy when it's finals," said Adams. "I try to have some coffee for you, or some water, or some tissue or a shoulder to cry on — I'm here for you 24/7." 
Adams said there is one thing that people can do to help make her job easier: "Just stop throwing the paper in the men's bathroom on the floor where I have to pick it up every single day for the past year and a half now."
She said she is still trying to hunt down this repeat offender.  
When Adams is not working, she enjoys playing basketball and racquetball and used to participate in the faculty sports league on campus, but now just plays for fun, she said.
Adams also enjoys detailing cars and hanging out at the car wash, she said. She owns a '71 Chevrolet Caprice and a '71 Oldsmobile Cutlass. Adams tries to go to the Woodward Dream Cruise every year, where other car lovers travel in their classic cars from Pontiac to the State Fair Grounds in Detroit. 
"I spend more time here (WSU) than I do at my own house so it's like you're my second family," said Adams. 
Hitting the Books
Megan Hakala, a library clerk at WSU, is somewhat new to the university, having started in January 2018. She finished her undergraduate career at Michigan State University and is excited to be back on a college campus, Hakala said.
"So far it has been a great experience," said Hakala. "It's exciting when I'm walking to work being in the midst of students and seeing everyone with their backpacks. I just feel like there is a really good energy."
Hakala primarily works at the Undergraduate Library, she said. 
"Working in the (UGL) itself, all of my coworkers are really nice and I just feel like there is a really good rapport with everyone there," Hakala said. 
Hakala has been a lover of libraries her entire life, she said. 
"I grew up being a vivacious reader so I just love being in libraries and being surrounded by books," Hakala said. 
While at MSU, Hakala was studying to be a nurse — but realized that it would not be the best career fit for her — graduating with an interdisciplinary studies degree, she said. 
"I'm considering going into medical librarianship, so still kind of tying in the brief nursing background that I had," Hakala said.  
"I think there's a lot of good hidden library services that aren't heavily advertised," said Hakala. 
These hidden services include reserve textbooks that are available for a two to three-hour checkout periods, she said. With textbooks being so expensive, this service gives students the ability to checkout textbooks and study them in the library, without having to purchase them.
When Hakala is not working, she enjoys taking her two dogs for a walk, bike riding, watching Game of Thrones and — of course — reading, she said. Her favorite books to read are biographies about old movie stars. She recommends Barbara Stanwyck or Natalie Wood's biographies. 
Hakala's favorite part about her job is all of the interactions she has with library patrons, she said. 
"It is a really nice feeling to know that when a patron walks away from, the desk they're better prepared to take on their classes or they feel like they have learned something," Hakala said. 
---
Jack Filbrandt is a staff writer for The South End. He can be reached at jackfilbrandt31@gmail.com.
Cover photo by Jonathan Deschaine.