U.S. Customs and Border Protection apprehended about 400,000 people at the Southwest border of U.S. and Mexico in 2018. Many people who have to cross the border face hardships and traumatic events as they attempt to make it to the U.S. safely.
At the Southwest Detroit Refugee and Immigrant Center, Josefina Diaz works as a volunteer, she said. There, she has heard traumatic stories of immigrants who have fled their homes in Mexico, Central and South America to find a better life in the United States. 
One story that stuck with Josefina was told to her by a mother who was crossing the border from El Salvador to Mexico with her two children — one being an infant — making their way north, she said. There are trains that cross the border that people hop on because it's a faster route than walking. While climbing onto the train, the mother dropped her baby with it dying on the tracks. 
"They were trying to risk everything. They left everything at home," Josefina said. "They leave all of their things and they leave their families and stuff to have a better life and a better opportunity and sometimes those risks get huge and it's life threatening."
Josefina — and other students are part of the Wayne State Latino/a and Latin American Studies program — are honoring those who have lost their lives crossing the borders of the Americas by constructing an ofrenda as part of the Detroit Institute of Arts' Día de Muertos exhibit. 
Their ofrenda — Life and Death Along La Frontera — will be on display at the DIA from Sept. 28 to Nov. 10. The exhibit is presented in partnership with Detroit's Mexican Consulate to celebrate Dia de los Muertos — Day of the Dead, according to the museum's website.
Alicia Diaz is the instructor of the twelve students who built the Ofrenda. She teaches Community Engagement and Narrative through the Practice of Ofrenda class. She's taken her other classes to see the ofrenda exhibit and offers extra credit to students who attend. 
"For us to be able to do this in this space is incredibly meaningful," Diaz said. "It takes it to another level that the exhibition space is going to be right off the Diego Rivera Court."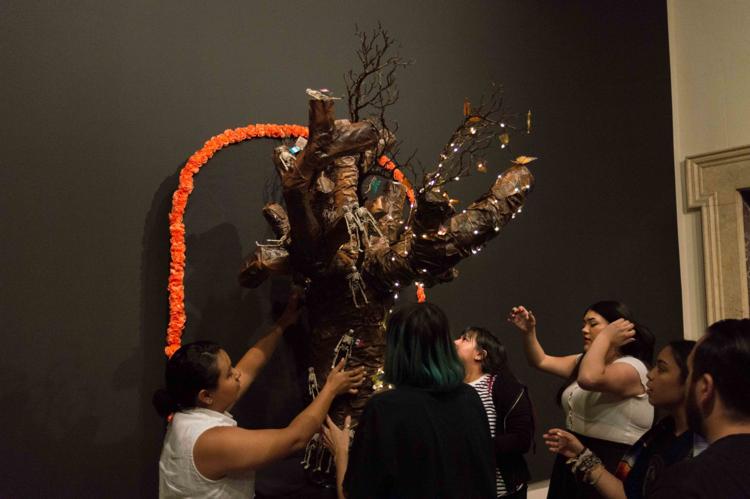 Andrea Gutierrez, a WSU psychology major and Latin American Studies minor, is honored to have her culture represented in the exhibit at the DIA, she said. 
"It's really impactful seeing something that we made being done in the exhibit. I don't know how I can express that more, but that's just super amazing that it's going to be part of the DIA," she said. "I know that a lot of people from all over the country come just to see the ofrenda so just to be part of that it's really honoring."
Dia de los Muertos is celebrated Nov. 1 through Nov. 2 in countries such as Mexico and Guatemala, Diaz said. She said the first day is more for the children, and the second day of the holiday is for the adults to celebrate.
The practice of constructing ofrendas dates back for centuries in Mexico and Central America — prior to the arrival of Europeans, Diaz said. Having roots in indigenous practices, it's a way for people to honor the dead at designated times throughout the year. 
"The word ofrenda literally translates into offering, from Spanish to English, but it encompasses so much more than that," Diaz said.
Ancestors who were originally honored, particularly by the Aztecs, were children and women, who died in childbirth, and warriors, Diaz said. Women who died while giving birth were considered warriors who died in battle in an effort to give life. 
What started as a religious-indigenous tradition, Dia de los Muertos evolved to include Christian practices after the arrival of Europeans, Diaz said. Throughout history, the traditions that surround the holiday continue to evolve.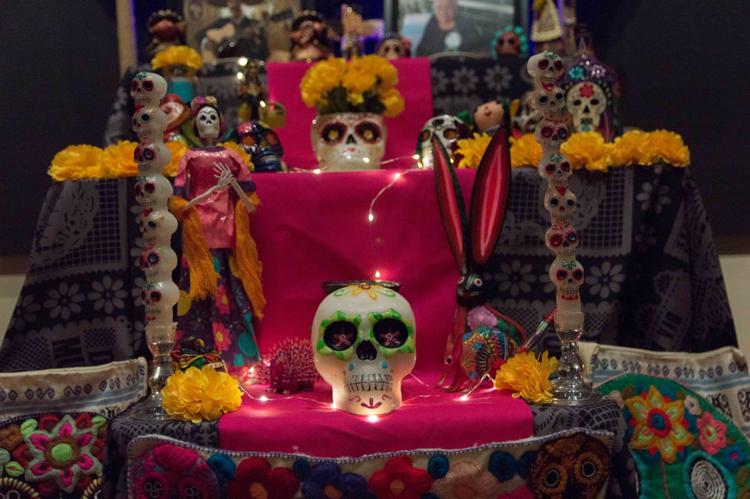 The Chicano Rights Movement of the 1970s embraced the practice of ofrendas and moved them into public spaces like art galleries, community centers and plazas, Diaz said. Traditionally, ofrendas were practiced in cemeteries, but this was not an option in the U.S.
"What you have is now the ofrendas are beginning to reflect modern Chicano identity and what their experience was in the United States," she said.
There are several symbols that an ofrenda traditionally includes, Diaz said. These symbols include candles or lights, the earth being represented by an offering of food, and religious iconography such as crucifixes. Marigold flowers are often traditionally found on ofrendas.
"Those are indigenous in origin, and their smell is said to be a way to guide the dead and so that would attract them to come and join in the celebration," she said. 
The holiday is not related to Halloween in any way, shape or form, Diaz said. 
"The imagery that you see of skeletons and what people put on their faces, these are not costumes," she said. "These are representations of culture. They are representations of spirituality. They are representations of identity — but it is not costume."
Like WSU's ofrenda, the ofrenda practice has evolved further to take on a social justice component, Diaz said. 
Daniela Peredo, a WSU marketing major, has built traditional ofrendas in the past to honor loved ones who have died, she said.
"This ofrenda goes more into topics of today with the border crisis globally, and that's something that the whole group tried to visualize for the ofrenda," she said. 
At the center of their ofrenda is el arbol de la vida, or the tree of life, Diaz said. The Ceiba tree, symbolized in Caribbean, Mexican, Central and South American culture, represents the circle of life. 
"The roots represent the underworld, the trunk represents the present and the branches are the generations to come," Diaz said. "Our students have taken that as the base for theirs but they talked about the tree of life in terms of — in effect representing — both the efforts of life, but also death that is happening in the migratory crisis that we are facing right now."
The class is also honoring the victims who have died in immigration detention centers through pictures on the ofrenda, Josefina said. 
"We hear the news, and we hear about another child who has died in ICE custody," Diaz said. "It's really disappointing because this is our government that we are talking about, and they're supposed to provide sanitary institutions and yet they're depriving them of life and quality sanitary conditions."
Through the ofrenda, Josefina hopes they can pass on compassion and show how people are actually treated, which should never be forgotten, she said.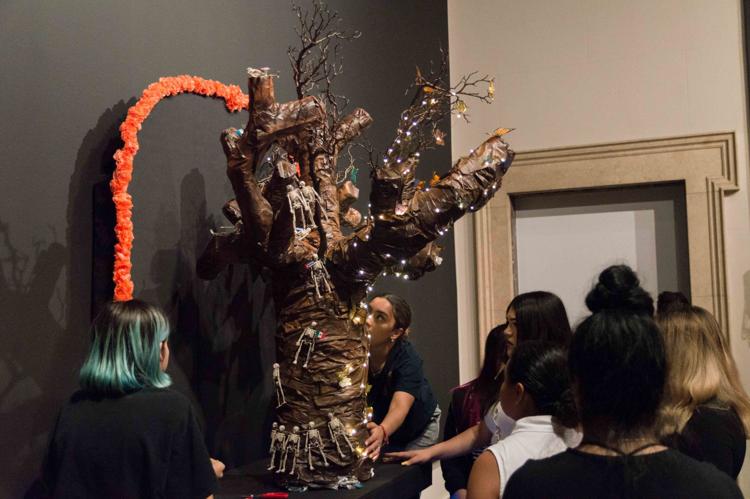 "What opened my eyes is how there's three deaths," Josefina said. "The first death is you pass away, the second death being buried, and the third death is being forgotten. You never want to reach the last death."
Diaz said Ofelia Esparza, a Los Angeles-based artist who designs ofrendas on a large scale, said something that touched her.
"The ofrenda is a way to make sure that death is not the last word. So long as you say someone's name, they do not become invisible — they are not lost," Diaz quoted. 
The student's ofrenda is key to that, she said. 
For more information on the DIA's exhibit, visit DIA.org.
This story is part of The South End's Hispanic Heritage Month Series. 
Jack Filbrandt is the Arts and Entertainment editor of The South End. he can be reached at jackfilbrandt31@gmail.com
Cover photo by Jonathan Deschaine. He is the multimedia editor of The South End. He can be reached at jonathan.deschaine@gmail.com