Wayne State is involved in ongoing efforts to revitalize Malcolm X's former family home in Inkster.
Adjunct professor of Anthropology Tareq Ramadan was awarded a $380,850 federal preservation grant in July 2021 to restore the home and turn it into an educational museum. 
The project is being done in partnership with Project We Hope Dream and Believe, an Inkster-based nonprofit dedicated to youth enrichment.
Ramadan said the plan is to restore the home by Aug. 8, the 70-year anniversary of Malcolm's arrival in Inkster.
Aaron Sims, co-founder and executive director of Project We Hope Dream and Believe, said he made the first step in the restoration process by securing the home a spot on the National Register of Historic Places. 
"When we first found the house in 2006 it was on a demolition list," Sims said. "So we just campaigned for 13 years… and the city of Inkster finally gave it to us." 
President of WSU's Pan-African Student Syndicate Kendra Jackson said that while some opposed Malcolm's legacy, it must be studied.
"Malcolm X is known for being outspokenly radical about the Black community and how we should live in society knowing that we are hated and suppressed by racism," she said. "Malcolm X wanted nothing more than for us to be independent but also outspoken about the different politics and procedures that were in place since the civil rights movement."
Malcolm X's autobiography, photo of his Inkster home and a document from his FBI file courtesy of Dr. Tareq Ramadan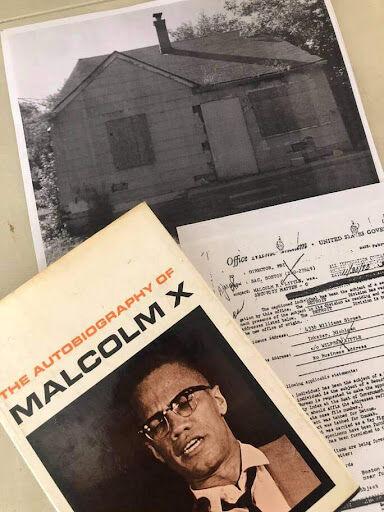 Ramadan said he has been fascinated with learning about Malcolm since he was a child and views Malcolm as an educated and evolving leader.
Two years before his assassination on Feb. 21, 1965, Malcolm gave a speech at WSU in State Hall Room 101 on Oct. 22, 1963. 
WSU's student newspaper, then called The Daily Collegian, reported that the room was overflowing as Malcolm gave a speech on the severity of racism and its effects on the Black community.
"The Negro has ceased to turn his non-violent cheek. They have a new fearless attitude. They are no longer afraid of the white man," Malcolm said during the speech. "The Black man has begun to fight back. They have nothing to lose but the conditions with which they have been living for the past 400 years."
Ramadan said he arranged for a joint effort between WSU's Department of Anthropology and Project We Hope Dream and Believe to start transforming the home into a museum. 
Sims said he's eager to start the project but anticipates that financial challenges may arise. Ramadan said the project is expected to start in early May.
Ramadan hopes the home will serve as an educational outreach center for Inkster youth, he said.
"(The home will) be inspired by Malcolm and his dedication to education," Ramadan said. "He saw education as such an impactful and utilitarian aspect of life… he felt that education was really key to progress."
Ramadan said he hopes to encourage his students to volunteer when the project begins. He plans to paint a clearer picture of Malcolm's history in metro Detroit through this work.
"We're trying to present a really comprehensive picture of Malcolm's life in this area," Ramadan said. "His life is so profound in many ways, it's filled with sadness and tragedy and incredible life experiences that really shape who he is. We hope to highlight some of that in the presentation of Malcolm here."
---
Amelia Benavides-Colón is the news editor for The South End. She can be reached at hd4634@wayne.edu.