Wayne State student entrepreneurs have adapted their businesses to pursue success during the COVID-19 pandemic.
Statewide COVID-19 restrictions limited in-person business operations, including indoor dining, from March 16, 2020 until June 22.
For sophomore public health major Manar Wady, starting her business Photos by Manar wasn't her initial goal, she said. She wanted to become a doctor, but family ties pushed her to pursue photography.
"I've always been in the business. I basically grew up with it because my dad had his own photography company," Wady said. "It wasn't my first plan to become a photographer, my dad encouraged me a lot."
WSU junior business marketing major and City Burger owner Abbas Barjaoui started operating his first restaurant in Warren two years ago, he said.
"City Burger was established about three years ago in 2017 but my family and I took over October 2019," Barjaoui said.
He said the pandemic's impact on his business provided an opportunity to support those in need.
"Once quarantine started, we had left over food so we donated all of our food to local hospitals, front line workers, fire stations and the homeless," Barjaoui said. "On Christmas we gave away 200 meals to the homeless." 
Being a student entrepreneur can be challenging, Barjaoui said.
"It was definitely tough at first juggling both a full time job and school but with family help I made it through the semester and now going half time has made my schedule a lot more flexible and easier to maintain," he said.
Wady has been a photographer since the summer of 2018, she said. She has learned that being a student entrepreneur requires handling multiple responsibilities.
"Struggle and time management is important when balancing trying to stay focused and make money," Wady said.
Wady said being a photographer gives her freedom to work around her school schedule effectively.
"I was worried I wouldn't have time and I was a bit scared at first but in the end it all worked out and I'm earning money while I'm working," she said.
During the pandemic, Wady said she struggled with booking shoots because many weddings were canceled due to COVID-19 capacity limits on indoor events.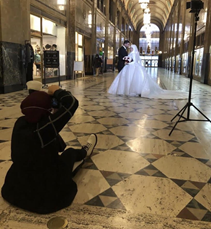 "But now it's starting to pick up again and I'm shooting some private and intimate weddings," Wady said.
Customer loyalty helped City Burger succeed during the pandemic, Barjaoui said. He and his family opened a second location mid-March in Sterling Heights.
"We like to treat people like a family and give back to the community for supporting us and supporting great quality food for the community," Barjaoui said.
Wady recommends other student entrepreneurs pursue their goals, she said.
"I would like people to know that if they set their mind on something they'd like to accomplish while they are still in school they definitely can," Wady said.
---
Chantell Phillips is a contributing writer for The South End. She can be reached at chantellphillips@wayne.edu.
Cover photo of City Burger co-owners Abbas Barjaoui and Mohammed Barjaoui at their Warren location provided by Abbas Barjaoui.