Several Wayne State students are visiting family in the occupied West Bank amidst ongoing tensions in Palestine and Israel.
The students said Israeli policies toward Palestinians in occupied East Jerusalem, the West Bank and the Gaza strip have affected their visits.
"Unfortunately, these events have been going on since 1948. The only difference now is that it's getting media coverage," said WSU Students for Justice in Palestine Vice President Ayah Shkoukani, who is currently in the West Bank city of Ramallah. "I am experiencing firsthand the consequences (of) the occupation. Hearing about it is one thing, but being here is a whole other experience."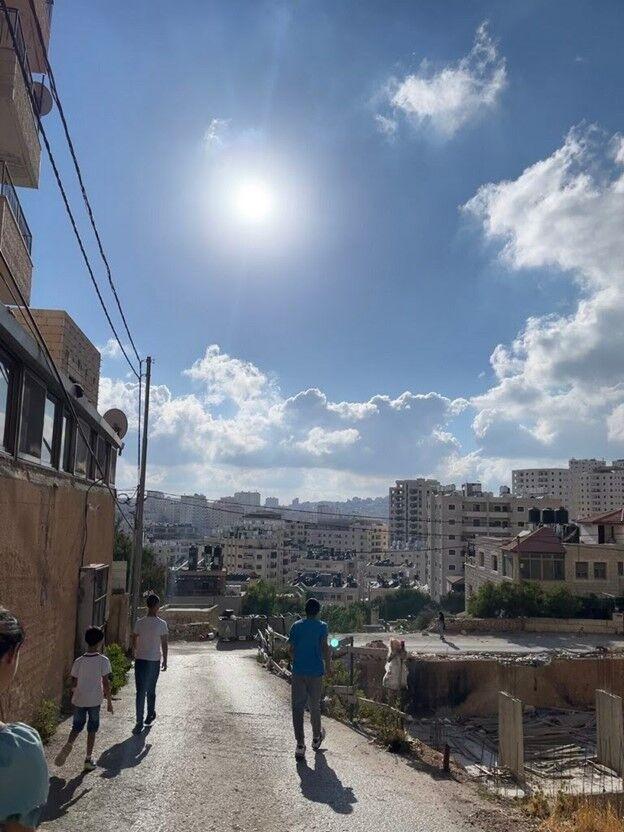 WSU computer science student and SJP member Tarek Silmi traveled to see family in Ramallah during Ramadan, he said. Around May 5, he took a flight to Jordan and then crossed the border to Jericho. From there, he took a cab to Ramallah.
"The border between Jordan and Palestine always closes and opens," he said. "When I came in it was open but right when I got in they closed it… They had it closed for a while and now I think they just reopened it. Tensions are always rising so it might affect (my trip back to the United States)."
Many Palestinians struggle with daily searches and checkpoints while traveling to grocery stores, school or work, said Silmi and Yasmin Shkoukani, a WSU social work major and Ayah Shkoukani's sister. There were over 150 Israeli checkpoints in the West Bank in 2019, according to B'Tselem.
"Getting into Palestine is a long and draining process," Ayah Shkoukani said. "Israeli police, officials and occupational forces give Palestinians a really hard time when it comes to traveling in the country. The checkpoints take hours to go through. They are degrading and used as a way to humiliate Palestinians."
Israeli forces give Palestinians green or blue IDs that restrict their movement, according to Al Jazeera. Silmi said he has a green Palestinian ID.
"Palestinians in the occupied West Bank and the Gaza Strip have green IDs – generally issued once they turn 16 – while Palestinians in East Jerusalem and Israel have blue IDs," Al Jazeera stated.
While a Palestinian ID provides access to Palestine from abroad, issues remain, Silmi said. 
"The region I'm in is an area only Palestinians live in," Shkoukani said. "As a Palestinian with a Palestinian passport and ID, it's not too difficult for me to get into this area, other than the usual checkpoints, of course. However, most other areas I'm not allowed to go to because I have a Palestinian passport and ID." 
Due to recent violence, it has become increasingly challenging to enter the Al-Aqsa Mosque, the third holiest in Islam, Yasmin Shkoukani said. 
"It's even difficult for Palestinians to go pray in Masjid Al-Aqsa in Jerusalem, which is a sacred spot for Palestinian Muslims," Yasmin Shkoukani said.
Silmi was able to visit Al-Aqsa on June 22, after multiple years of difficulty, he said. He declined to provide detail on his travel for safety reasons.
"The process of getting there is tiring and exhausting," Silmi said. "What I also can say is we had to go through various checkpoints when we got to Jerusalem. One of the first things that caught my eye is the heavy military presence and the sewage water sprayer… this is a big truck that sprays dirty water at people."
Israel Defense Forces were present from the Damascus Gate to the doors of Al-Aqsa, including on the grounds of the mosque, Silmi said. 
"While walking (through) the Old City, making my way towards Al-Aqsa Mosque, I was stopped and searched and frisked multiple times," he said. "I was forced to open my bag, take everything out, and when I was frisked I had to put my hands up and they searched me. The whole process of getting there was humiliating."
Silmi said he saw multiple Israeli settlers entering the mosque, protected by IDF soldiers.
"In the end though, it was all worth it," Silmi said. "I'm beyond blessed and extremely grateful I got to pray and see the Dome of the Rock and Al-Aqsa Mosque. This was the first time in 13 years."
He revisited Jerusalem Tuesday, July 6, he said.
IDF soldiers have raided Ramallah in recent years, according to Al Jazeera. Ayah Shkoukani said she has experienced these raids.
"We come in contact with Israeli forces when traveling in and out of the country and city to city," she said. "Israeli forces randomly raid the city I'm in. They'll raid our homes and the streets, throwing stun grenades, bombs and tear canisters."
Silmi plans on returning to Michigan in August, he said. He will plan his trip back days in advance to avoid missing his return flight due to Israeli checkpoints.
The current situation in Palestine and Israel is not new, Ayah Shkoukani said.
"Even though there have been uprisings recently, the atmosphere is still the same," she said. "Everything that has been going on in the last month has been happening for the last 73 years. Unfortunately, Palestinians have learned to live with their oppression and occupation."
Associate Vice President of University Communications Matt Lockwood said WSU sends its best wishes to students visiting Palestine.
"We hope they have safe and enjoyable visits and we look forward to seeing them back on campus in the fall where we provide extensive support of our students," Lockwood said.
---
Nour Rahal is a contributing writer for The South End. She can be reached at nrahal1@wayne.edu. Irving Mejia-Hilario contributed reporting.
Cover photo of Ramallah by Yasmin Shkoukani.