Wayne State University Police Department — off to the races?
Last year, the department introduced its mounted unit, which is headed by WSUPD Officer Brandon Murphy.
"This was a good way to get officers out more and to connect to our community of students and faculty," said WSUPD Lt. David Scott. "In cars, we don't have a way to create a bridge between people and enforcement."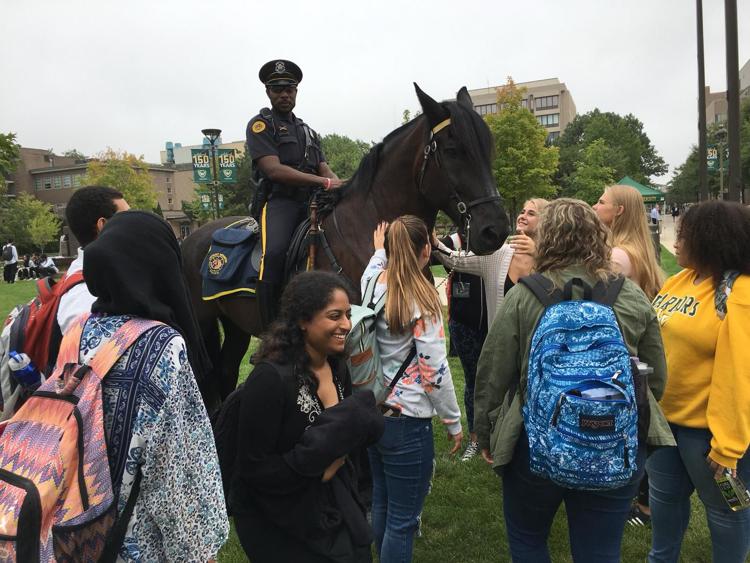 Murphy is currently the sole full-time officer on the squad. The horse he rides, Andre, is a 15-year-old Percheron horse owned by Detroit Police Department.
Murphy said working with Andre has created a form of mutual love and respect.
"You have to have a connection with that animal," Murphy said. "Even on the days I'm not riding I'm busting my behind to make sure he's OK."
Some students said they believe horse cops are a publicity stunt by the police department. Freshman film major Sebastian Rivera said having police officers mounted on horses around campus is just for style.
"I don't see what a horse can do that a car can't," Rivera said. "I feel that horses are very elegant creatures and it's more so just to make the campus look stylistic and make (police) look more badass."
Murphy said Andre can easily maneuver through traffic and alleys, which would be difficult to accomplish in a car.
"I get people come up to me and ask why I'm on a horse," Murphy said. "I respond back asking: 'Why not?'"
A video of Murphy and Andre pulling a student over was posted on Twitter last year and received nearly 60,000 views. Murphy said the student was texting and driving and was given a ticket.
You know you've been Wayne Stated when you've been pulled over by a cop on horse 🤷🏽‍♀️🐎 pic.twitter.com/ZZNHQOsjmm

— sam (@Sammi_Farrah12) April 28, 2018
Murphy said he has the same authority as a typical officer. When he needs to arrest someone while he's mounted, he calls for a squad car.
DPD horses are kept at Palmer Park on Six Mile Road and Woodward Avenue.
"DPD provides us with the horse and care for the horse," Scott said.
WSUPD pays Murphy's salary; Andre's maintenance fees are covered by DPD. It costs $20 a day to support a police horse, according to The Detroit News.
Murphy and Andre patrol campus every day, unless there is training or the weather is too harsh. Although Andre is Murphy's assigned partner, if Andre isn't feeling well, Murphy will take another horse.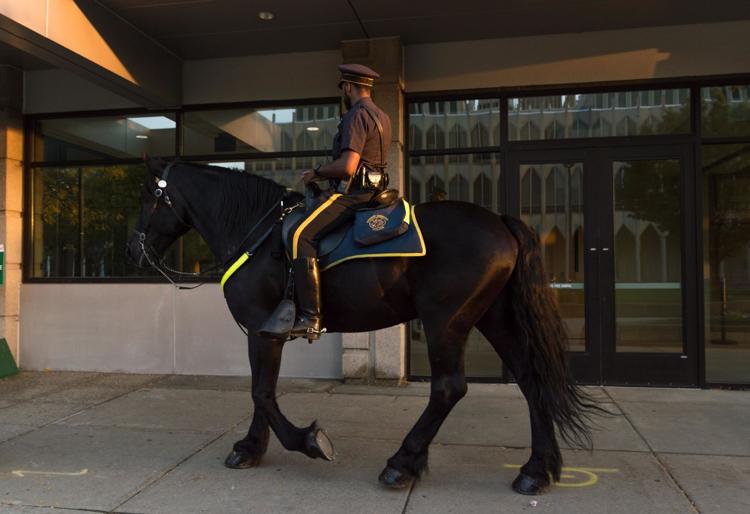 "I have about 150-200 interactions a day when I'm patrolling," said Murphy. "It makes you feel more confident as an officer, and people love animals too."
It takes about three months for officers and horses to complete training.
"The horses were already trained when we started the program at WSU," said Scott. "(The training) was getting the officers and the horses comfortable around each other."
Scott said he can't say that crime rates have dropped since WSUPD established its mounted unit.
There are currently no plans to expand the unit but Murphy said he remains optimistic about its growth.
"Being on a horse, you get to have interactions with people that a typical police officer wouldn't have in a car," Murphy said. "These types of opportunities are great to be able to talk to people and change their perception on the police."
---
Susana Hernandez is The South End's WSU Board of Governors and campus housing beat reporter. She can be reached at susana.hernandez@wayne.edu.