To close out Women's History Month 2019, TSE will be publishing an article every day this week that highlights the accomplishments and goals of a featured Wayne State Warrior.
The aroma of fresh spinach and meat pies swirls around West Village bakery. In the kitchen, a family kneads and cuts dough. One of the workers simultaneously slices mana'eesh and helps the influx of people entering the quaint bakery on Carlysle Street in Dearborn.
Miriam Hamad is spending another weekend working at her father's bakery. She wears a hair net and a white smock as she helps customers with their orders. She does three jobs at once and does them effortlessly.
"She's a very, very hard worker," her father says as he shifts bread in the baker oven.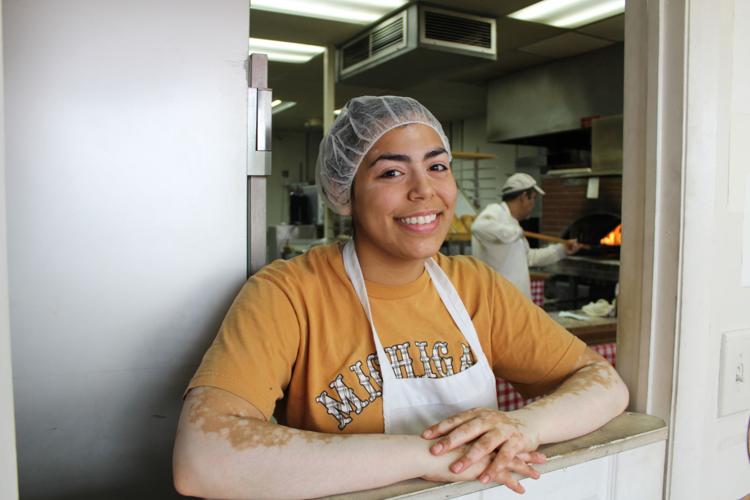 Hamad is a sophomore Wayne State who is pursuing nursing with a minor in near-eastern studies. She rings up customers and bags their orders. Helping people is her passion, and she finds joy in her daily interactions with customers and patients, she says.
"My mother was a nurse and nursing has been in my family history," she says. "I just really love to help people, and I am really passionate about caring for people who need it most."
Hamad's mother passed when she was little, but her legacy continues through the work Hamad puts into her school and work.
When she first entered college, Hamad said she contemplated between pre-med or pre-nursing. Both professions revolved around her passion for science and healthcare. However, nursing offered her something that a pre-med major didn't: personal interaction and compassion for patients.
"The debate between what I wanted to major in was kind of hard, but I realized that my passion was in nursing when I started to volunteer for Karmanos," she said. "The interaction that the nurses had with the patients was what I wanted to do. I didn't just want to see the patients, I wanted to know and care for them."
Hamad knew the profession was meant for her when she realized that nothing about her experience at Karmanos  the largest cancer research and treatment center in Michigan  grossed her out, she said. Nursing also gave Hamad a chance to be soft and supportive with patients, an aspect she liked about the job.
Hamad said one of the most impactful memories that helped her realize how much she loved nursing was when a patient who she'd worked with weeks before came to her father's bakery and remembered her compassion.
"I try to make awkward situations less awkward with patients. I was just trying to make him feel comfortable with a good conversation. After that, I really didn't think anything of it." she said. "This man remembered me from Karmanos and told my dad that I made him feel really comfortable and happy. The fact that I could make that much of a difference for somebody as a nurse was really impactful for me."
Along with working at the bakery and attending school, Hamad is a political junkie who also enjoys painting and reading. For women who are struggling with confidence, Hamad says building a positive relationship with yourself is the key to offsetting insecurities.
"I had my times where I was self-conscious about myself, but the only thing that matters is how you think about yourself," Hamad said. "People are going to think what they think about you. But remember that nothing else matters except your own opinion about yourself. Sometimes you can't change yourself physically, but the relationship you have with yourself is the most important."
---
Slone Terranella is news editor of The South End. She can be reached at gh7510@wayne.edu. Photos by Slone Terranella.