As bee populations continue to decline across the U.S., several Detroit-based nonprofits are working to sustain the city's bee population.
Detroiters may stumble upon busy beehives in vacant lots, on rooftops and in community gardens thanks to the efforts of organizations such as Bees in the D and Detroit Hives —organizations dedicated to educating people about bees and conserving their dwindling population, according to their mission statements.
Collectively, Bees in the D and Detroit Hives have brought over 134 hives to southeast Michigan; Bees in the D has even spread to parts of Canada.
"Beekeepers have been around for hundreds, if not thousands of years, but a lot of beekeepers in the past have been out of sight, out of mind," said Brian Peterson-Roest, founder of Bees in the D. "Urban beekeeping is kind of coming out of the dark because people are starting to realize how important (bees) are. They are realizing how easy it is to coexist with honey bees."
Detroit has over 90,000 vacant lots that are not sprayed with any forms of chemicals or pesticides, said Wayne State graduate and co-founder of Detroit Hives Timothy Paule.
This is one of the major reasons Detroit is an exceptional place for bee keeping, Paule said.
Large amounts of vacant land in Detroit provide impeccable nesting conditions for bees, which has helped boost the bee population throughout the city, according to a study by the University of Michigan.
"By activating these vacant spaces — by putting bees there —  it's contributing to the environment, but also our nearby urban farmers and gardeners," Paule said.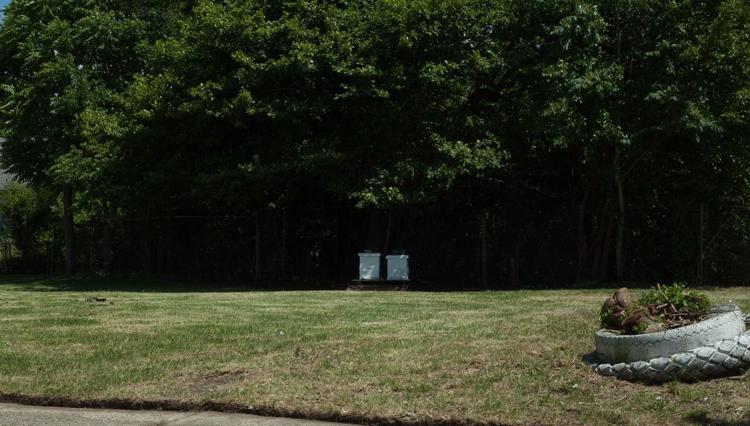 Peterson-Roest said the main benefit to having bees in the community is the increase in pollination activity.
Before he started beekeeping, Peterson-Roest lived in Lake Orion. He said he noticed the bee population dwindling right before his eyes.
In his garden, the leaves on his pumpkin and zucchini plants would fall off because the plants weren't being pollinated, he said.
"I started going out to the garden and using a paintbrush — and I'm not making this up — to literally pollinate by hand some of the plants that were in my garden so that I would have fruit," said the Bees in the D founder.
Peterson-Roest said he would get only a few fruits and vegetables with his do-it-yourself method. Once he introduced a hive into his garden, his harvest became significantly more fruitful — and he threw away the paintbrush.
"I learned to pickle. I learned to can. I learned to make things out of zucchini that I would've never thought to use zucchini for because I had so much produce. I just couldn't give it away fast enough," said Peterson-Roest.
Paule brought beehives to Detroit to help combat the issue of urban food deserts, especially in the East Warren community, he said.
Through beekeeping, Paule hopes to promote urban agriculture in order to provide people fresh and organic produce that is accessible and affordable.
Paule also wants to educate people on the importance of bees, he said.
"This is something that I didn't learn growing up. I was afraid of bees and had nothing to do with bees. And I knew bees were dying and frankly I didn't care," said Paule.
According to a report from the Center of Biological Diversity, which studied over 700 North American bee species, more than half of bee species are declining in population; nearly a quarter are at risk of extinction due to the destruction of their habitats and use of pesticides.
There are many things people can do to help improve the health of the bee community, said Peterson-Roest.
This includes planting flowers, herbs and native plants. Doing something as simple as placing a plant on the porch or putting a bowl of water outside so bees can comfortably land and get a drink can go a long way Peterson-Roest said.
It is extremely important to avoid the use of insecticides and pesticides because those products can kill bees, according to Peterson-Roest.
Matthew Seeger, dean of the College of Fine, Performing, and Communication Arts, who bee keeps as a hobby, thinks that WSU would be a good place for beehives.
"There are some places on campus where there are good blooms of flowers that the bees really like," Seeger said. "In the spring, when all the crab apple trees are blooming, you'll see a lot of bees on the crab apples. There are a few other places where you'll see the bees sort of congregate in the spring."
"We believe that we can transform fear into love just through education and by allowing people to know just how important these pollinators are," Paule said.
For more information about Bees in the D and Detroit Hives, visit their websites at beesinthed.com and detroithives.com.