Wayne State juniors Rajaa Shoukfeh and Sara Abdulrazzak traveled to Jordan this summer on a volunteer mission with the Syrian American Medical Society (SAMS), a global relief organization working in the frontlines of the Syrian refugee crisis.
"Since 2011, I watched helplessly, half the world away, as the political unrest in Syria slowly turned the country I once visited every summer to one I barely recognized," Shoukfeh said. "As the years went by and refugees came into the U.S, I started volunteering with local organizations that helped resettled refugees."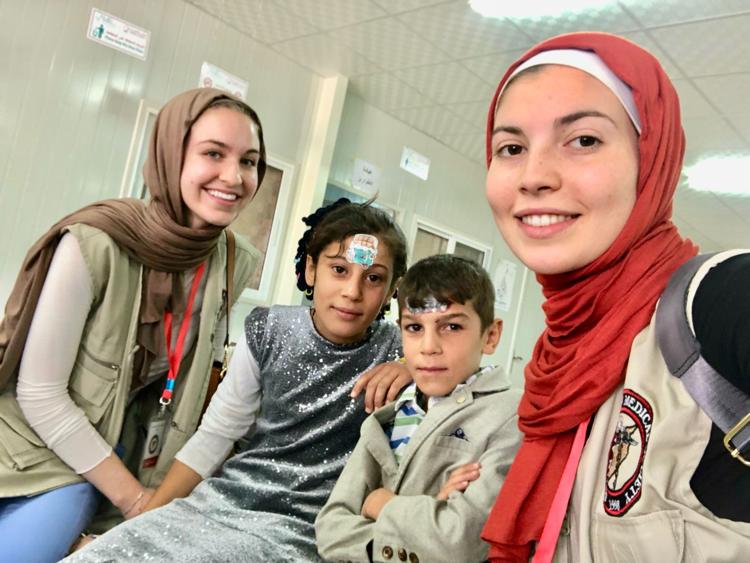 The war in Syria and the refugee crisis in neighboring countries hit both students home, as they're of Syrian origin. Seeking to help alleviate the effects of war in Syria in whatever capacity they could, the two Warriors became involved with SAMS.
Shoukfeh, a nutrition major, recounted two memories that stuck with her most: the drive to the Zaatari refugee camp — which is home to about 80,000 refugees and has become the fourth largest city in Jordan, according to Oxfam International— and seeing patients in the clinic.
"(A) scene that is forever etched in my memory is the sight of the patients flooding the waiting room of the clinic as we walked in," Shoukfeh said. "The look on their faces as they saw the doctors coming in was one of gratitude and hope."
According to Aljazeera, more than 60% of Zaatari's population is under 24, and the camp, close to the Syrian border, has "transformed into a city-like settlement."
"I was truly shocked at the living conditions, but even more shocked at how people were establishing themselves," Shoukfeh said.
On the mission, both students worked as dental assistants.
Abdulrazzak, a biology major, said dental assistants were responsible for making sure patients "flowed in and out quickly and efficiently."
Additionally, they would pass out toothbrushes and toothpaste to children, and give brief lectures on the importance of oral health.
"We operated in a conference room, which was transformed into three triage stations and two treatment stations by a few long tables and some chairs," Shoukfeh said. "Patients would tilt their heads back and one of the assistants would (keep) it in place during an extraction. We would use our phones for light."
Both student said they're coming back to WSU with an understanding of the severity of the current situation in the Middle East.
Inspired to continue their work in helping improve the lives of those from their homeland, Shoukfeh is serving as president of WSU's chapter of Students Organize for Syria and Abdulrazzak is a board member.
"I learned so much from my interactions with these resilient, inspiring and tenacious individuals," Shoukfeh said.