When Angélica Guardia entered the master's program for biomedical engineering at Wayne State it was difficult to make friends, she said. 
"It just became very routine to just work in the lab, go to class, and then go to my house," Guardia said. 
After several months of this routine, she said her self-esteem took a hit before realizing it wasn't sustainable or healthy. 
"You definitely stop taking care of your body, stop doing very basic things that you should do because you don't feel like you're worth it," Guardia said. "To me, loneliness is that mis-match between the interactions that you're having at the moment and what you really want," Guardia explained.
Loneliness is an issue spreading through all college campuses in the U.S., with 48,000 college students in 2017 saying they felt "very lonely," according to the American College Health Association.
The American College Health Association found 64% of students said they felt overwhelming anxiety, and 53% said "things were hopeless."
Sarah Cardona, a 36-year-old english sophomore, described a lack of community, especially for older undergraduate students on campus.
"There was very little school spirit from the beginning," she said, citing the choir instructor's failed attempt to teach the school song at orientation. 
"Nobody was paying attention. I grew up in an entirely different time so, I feel like I don't have a lot of the same cultural touchstones."
For Cardona, loneliness meant not having people to relate to on campus. It wasn't long before Cardona began to feel isolated at WSU. 
"I eat alone, I go to classes alone," Cardona said. "As an older student you have to acknowledge that loneliness. Honestly, I don't really feel like Wayne acknowledges that there are undergrads who are mature adults." 
Cardona said she told herself in the beginning she's there to get her degree, not make friends.
A 2014 study by the Cooperative Institutional Research Program at the University of California, Los Angeles, discovered a decline in socializing that may correlate to a decline in emotional health.
WSU has made efforts in the last 18 to 24 months to combat loneliness through interactive campus programming and community resources, according to Dean of Students David Strauss.
"We really encourage students to go seek mental health services," Strauss said. 
At the peak of her crisis last year, Guardia said reaching out to WSU's Counseling and Psychological Services gave her some clarity. 
"I know they cannot fix it for me. I just want to talk about it," she said. 
Though 21-year-old senior Satyam Joseph, a finance and global supply chain major, entered WSU with a group of friends from high school, he said he still struggled with loneliness during his freshman year. 
"As a commuter it's a little tougher because you're not, at the end of the day, going to be on campus surrounded by people in the same building," Joseph said. 
Quaneece Calhoun, psychology intern and counselor at CAPS said loneliness occurs "when you don't feel like you have a connection with other people," but it can also be self-perpetuated. 
Calhoun said one of the ways to combat loneliness is to start having a healthy relationship with yourself. 
Calhoun said if loneliness continues for prolonged periods of time you "activate a negative perception of yourself."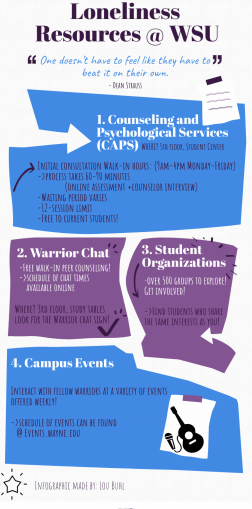 That perception is linked to depression, anxiety, interpersonal issues, as well as physical health issues, she said.
While not everyone experiences loneliness, Calhoun said it's normal and natural for someone to experience the feeling of loneliness.
"All emotions are healthy. It's what you do with them that becomes an issue," Calhoun said. "It's like standing in front of a picture with your nose touching and you can only see the portion that's right in front of your eyes. Oftentimes, taking a step back is necessary to see the bigger picture."
Dean Strauss said one of the ways WSU is combating loneliness on campus is through the new program Warrior Chat.
Launched in mid-February, Warrior Chat provides students with non-clinical peer counseling, Strauss said.
Graduate students in the Counselor Education and School and Community Psychology serve as the peer counselors.
"Lots of times people just need someone to talk to," Strauss said. "Warriors can choose from several scheduled drop-in times throughout the day to do just that. You may be more inclined to talk to a peer. They're graduates, masters, doctors-level students—but they're a peer," Strauss said. 
Schools like Yale University offer classes teaching students how to lead a happier and more satisfying life, according to The New York Times. Over one-fourth of Yale's undergraduate class had enrolled to take the course in 2018.
Over the last 20 years, communication through virtual media has normalized non-verbal interaction. In 2017, a study by the American Journal of Preventive Medicine found that students who turn to social media more think they're lonely than those who don't frequently use it.
Researchers believe websites like Facebook make young adults believe a certain standard of happiness that's difficult or nearly impossible to achieve, according to the study above.
A lot of students instinctively grab their phones when faced with possible social interactions, Joseph said. 
Knowing this impulse, he said he tries to resist the urge to check his phone by reaching out to people more. After having little social engagement during his freshman year, Joseph said he noticed how negatively the effect was on his psyche. 
"Humans are social creatures," Joseph said, "At a certain point you need to have some level of human interaction in order to function properly." 
To help ease his feelings of social loneliness, Joseph joined an a capella group on campus after attending FestiFall—an annual tradition where students can explore student organizations at WSU. Joseph also joined Alpha Kappa Psi, a co-ed professional business fraternity at WSU. 
For more information on Warrior Chat, visit https://getinvolved.wayne.edu/organization/warriorchat/events
Lou Buhl is a contributing writer for The South End. She can be reached at lou.buhl@wayne.edu
Cover photo by Guneet Ghotra. Guneet is the graphic designer for The South End. She can be reached at fz8387@wayne.edu