A Detroit News headline from 1964 states, "At Wayne, Only Old Main Remains the Same," according to Historic Detroit.
This headline still holds true as climbing into Old Main's clock tower is like stepping into a time capsule.
Restoration of Old Main was completed in 1997 along with a new wing — the Elaine Jacob Gallery — being added to the back of the building.  
To enter the clock tower, one must go to the top floor of Old Main, around a dark staircase that leads up another flight of stairs. After this staircase, a floor-to-ceiling fence blocks another old metal spiral staircase, which is the entrance to the clock tower. 
The spiral staircase dates back to 1896, Wayne State engineer Ken Brandt said. The fence protecting the tower from curious trespassers used to be six feet tall. It was made taller due to people scaling it and climbing up into the tower.
Once in the tower, names of trespassers and trade workers cover the walls. A boarded off ladder leads to decrepit rotting wood platforms that date to 1896. These platforms ascend to the steeple of the tower and onto the roof.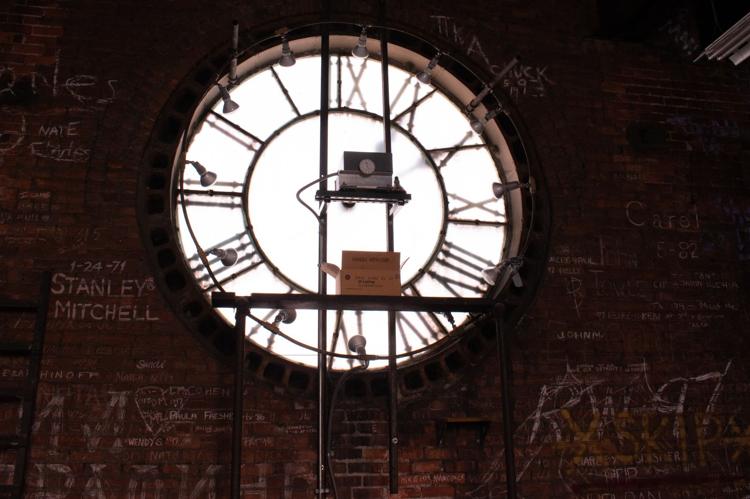 The only residents in the clock tower are Isabella and Freedom, a pair of peregrine falcons. However, the watchful guardians of Old Main are not Detroit-born residents.
Isabella and Freedom, @WayneState's resident peregrine falcons, have called Old Main home since 2016. Now a new Falcon Cam will allow researchers and the public alike to monitor the birds 24 hours a day. 🦅 https://t.co/yqt4fYyJTx | #WSUFalcons pic.twitter.com/nEG7kO3awD

— Wayne State College of Liberal Arts and Sciences (@WayneStateCLAS) June 6, 2019
The Michigan Department of Natural Resources tagged one of the falcons in Jackson, Michigan when it was a chick, according to WSU's College of Liberal Arts and Sciences. The other falcon was tagged over 300 miles away. 
"The falcon is tagged from Kentucky, when it was a little pup," Brandt said. "The DNR and I came up here and put a bucket of pea gravel (in one of the ledges) for them to nest."
The Michigan Department of Natural Resources tried tagging the mother's chicks but didn't, fearing the baby falcons would fall over the edge, Brandt said. 
The Department of Biological Sciences and CLAS placed a new video stream near their nest, allowing for viewers to check on the family 24 hours a day, according to the CLAS website. WSU researchers will also use the video stream to collect data on the birds.
During the restoration of Old Main, a system of fluorescent lights standing four feet tall were placed in front of each window, electrical shop team leader, Paul Prouty said. The face of the clock is lit up by a conduit system of flood lamps. Floodlights on the roof of the building keep the tower lit at night.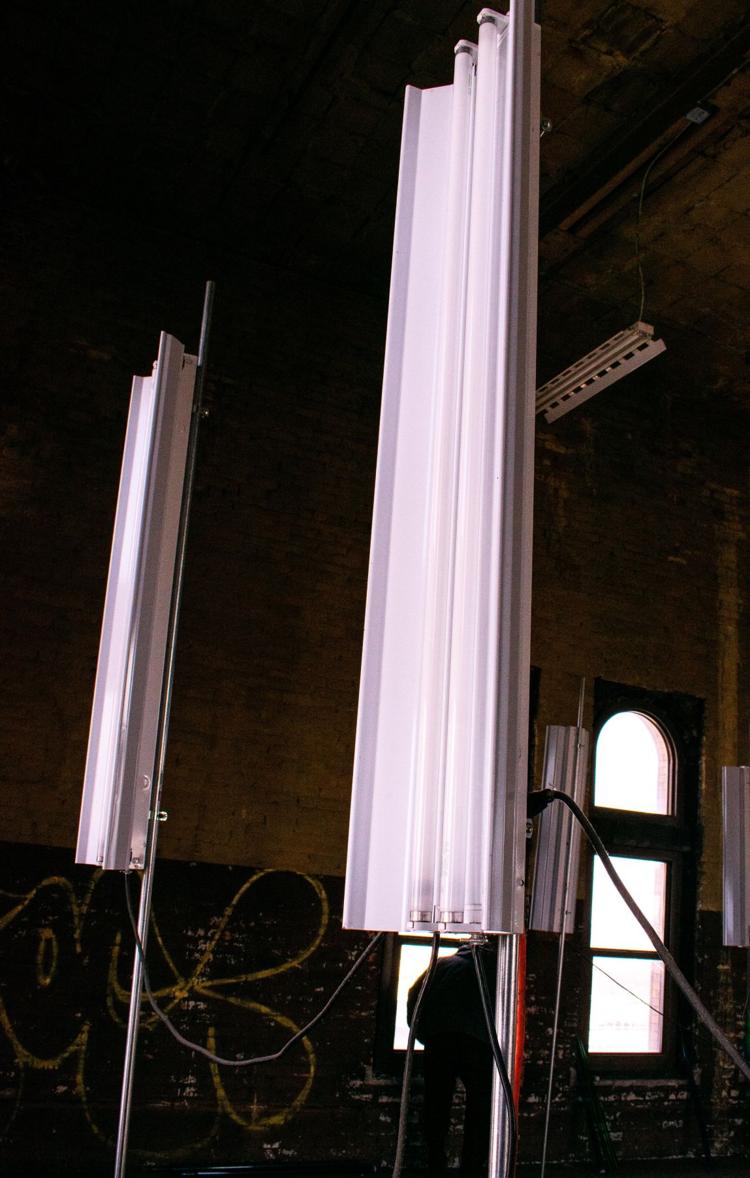 "It was almost like a beautification type thing," Prouty said. "It's our grand tower. It's our Old Main."
The lights' colors are changed for various occasions and holidays. 
It's relatively easy to change the color of the lights, Prouty said. It is a two-man job that involves removing the fluorescent tubes and sliding colored shades over them.
The electricians who operate and repair the clock are jokingly referred to as Tick and Tock, Brandt said.
In January of 2011, Jessica Archer, then WSU's public information officer, was contacted by the American Heart Association, she said. They asked if Old Main's clock tower could be lit up in red during February for American Heart Month.
"At that time, I'm not sure if we had different colored gels but I did have to track them down to another part of the university," Archer said. "I basically just connected the dots and from then on the clock tower always had a theme with the lights — whether it was green and gold, or red for heart awareness, or blue for autism month in April."
While this wasn't the first time the lights had been changed to a different color, it had been some time, Archer said.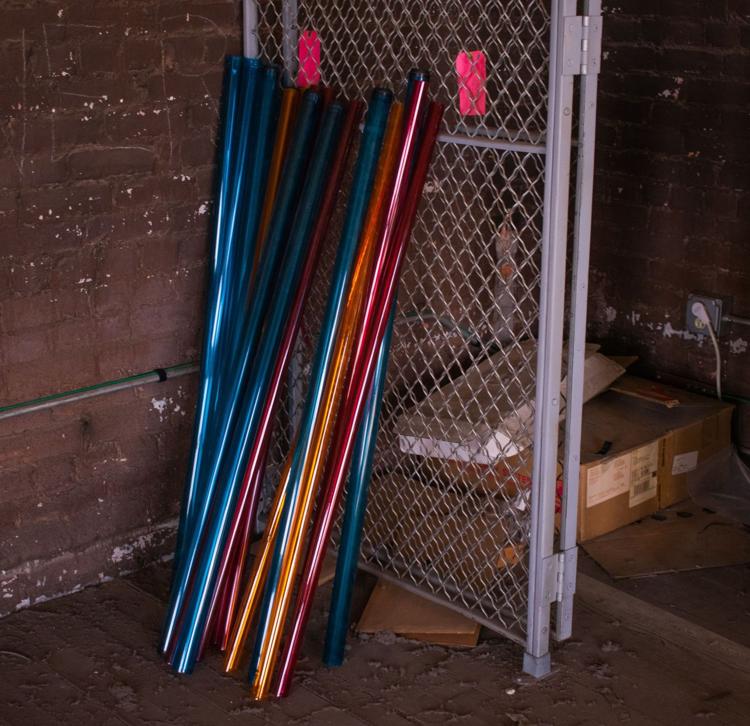 The lights were changed to blue after the death of Officer Collin Rose in 2016, Prouty said. "We changed that clock tower to blue to show our support and pay our tribute to Officer Rose." 
"This year a couple of newscasts for Noel Night had Old Main in the background, and it was all lit up green and red," Prouty said. "So that's kind of neat to see that on (TV) because you know we have a hand in doing that." 
The decision to change the lights come from Prouty's boss at Facilities, Planning and Management and from WSU's communications team, he said.
"We love Old Main and we take care of it," Prouty said. "We make sure and I make sure that the tower is lit up at night."
To monitor Isabella, Freedom and their falcon family visit go.wayne.edu/falcons.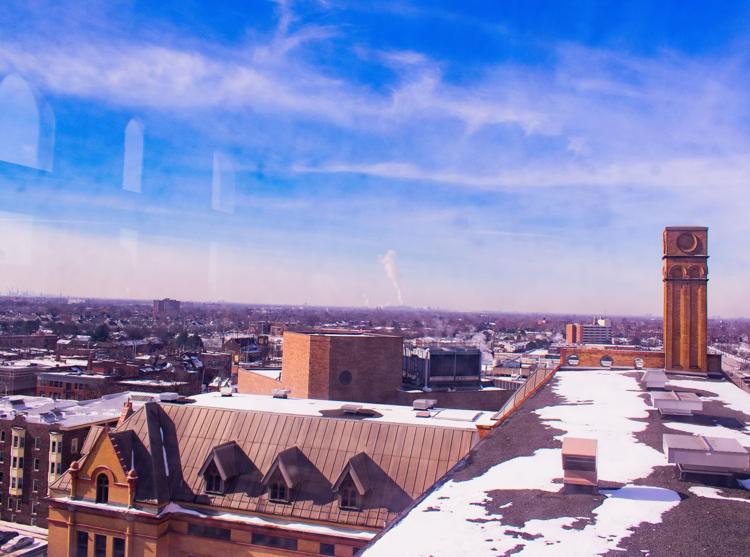 ---
 Jack Filbrandt is a contributing writer for The South End. He can be reached at jackfilbrandt31@gmail.com.