Wayne State Hindu students celebrated Ganesh Utsav, also known as Ganesh Charurthi, in University Towers this month.
The 10-day long festival celebrates Lord Ganesha, a god in Hinduism. The festival typically includes prayer, chanting and traditional food.
"It's a great time to come together and enjoy," said Sana Gujar, attendee and Oakland University alumna. "Usually we don't get the chance to come together and enjoy time together because everybody's busy with their lives and jobs."
WSU's festival was organized by the Indian Student Association's Ganesh Utsav 2021 Team, according to the WSU Ganesh Utsav 2021 flyer. Those who knew organizers or attendees could attend daily prayer and ceremonies.
The festival began each day with morning prayer, known as daily Aarti, at a Ganesha idol in University Towers Apt. 818 at 8:30 a.m, according to the flyer. In the evenings, Aarti took place at 8 p.m., with an increased number of participants, Gujar said. 
In Hinduism, Ganesha symbolizes prosperity, success and the removal of all obstacles, according to The Times of India. 
"But in order of sequence, this god is the first one because there are a lot of gods . . . and Ganesh is one of the most important and comes first in the order of celebration," said Palash Pattewar, attendee and WSU alum.
The Ganesha idol was decorated in traditional Hindu tribute decor and food offerings.
"We offer some sweets and food that is offered to the god first," Pattewar said. "The concept is we offer to the god first, and then others can indulge."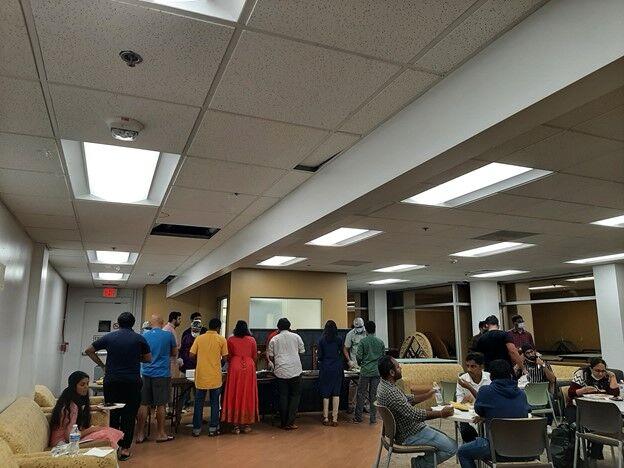 The festival is based on the lunar calendar and typically occurs in August or September, according to The Times of India.
Students appreciated being able to celebrate in-person following COVID-19 pandemic restrictions, said Yash Mandre, Ganesh Utsav 2021 Festival organizer and WSU graduate student.
"We have been doing this (festival) for the past 13 years and students continue to plan to do it," Mandre said. "It feels really good doing it and being able to gather in the home (on campus) around Ganesh." 
Activist Lokmanya Tilak used the festival to oppose British colonial rule in India during the late 1800s, according to The Times of India. The British monarchy ruled India from 1858 to 1947, according to the BBC.
"People were afraid to gather together (in India during the 1800s). Mass gatherings were forbidden at some point," WSU graduate student Bhavesh Khairnar said. "So, leaders such as the freedom fighters took the initiative to start this event so that people would gather and whatever messages needed to be displayed were displayed."
Ganesha represents success in new beginnings of life, jobs and relationships to many of those who attended the festival on Sept. 15, Mandre said.
"Prosperity, luck, and spirituality basically is what we pray for," Mandre said. "Good vibes. We celebrate the coming and going of the god, the first day and then the tenth day with prayer. It's a sign of unity and celebration of the festival."
The Ganesha idol is traditionally placed into a body of water on the festival's final day, Mandre said. Students used another item instead in order to preserve the idol, since it was sent to WSU from India in 2020.
Mandre said he hopes Ganesha will return soon for the festival in 2022.
"We celebrate it, like you're (Ganesha) going now and we expect you to come back as soon as possible next year," Mandre said. "It's a sign of coming together."
---
Shawntay Lewis is a contributing writer for The South End. She can be reached at hg6765@wayne.edu.
Cover photo of Lord Ganesha idol in University Towers Apt. 818 on Sept. 15 by Shawntay Lewis.