When Amandeep Singh Jhajj, a 2017 Wayne State graduate, heard of the protests happening in India, he refused to simply stand by. Farmers across the country have spoken up —sparking one of the largest protests in history. 
The protests are in response to Prime Minister Narendra Modi's new farm laws passed in September 2020. Modi said the new laws provide more opportunities for farmers by increasing market competition, according to CNN, giving them the autonomy to set their own prices. But small farmers believe the new laws will make it easier for large corporations to exploit agricultural workers.
"I just couldn't sit silent and wanted to raise awareness here in U.S. media about what is happening in India and human rights violations by India," Jhajj said.
Jhajj went on to organize a series of car rallies in support of the Indian farmers. The first in Canton, the second in Troy and the final one in Detroit. 
"Our main objective was to raise the voice against human rights violations and get media attention so that we can send our voices to our new Joe Biden administration and we successfully got media attention," he said.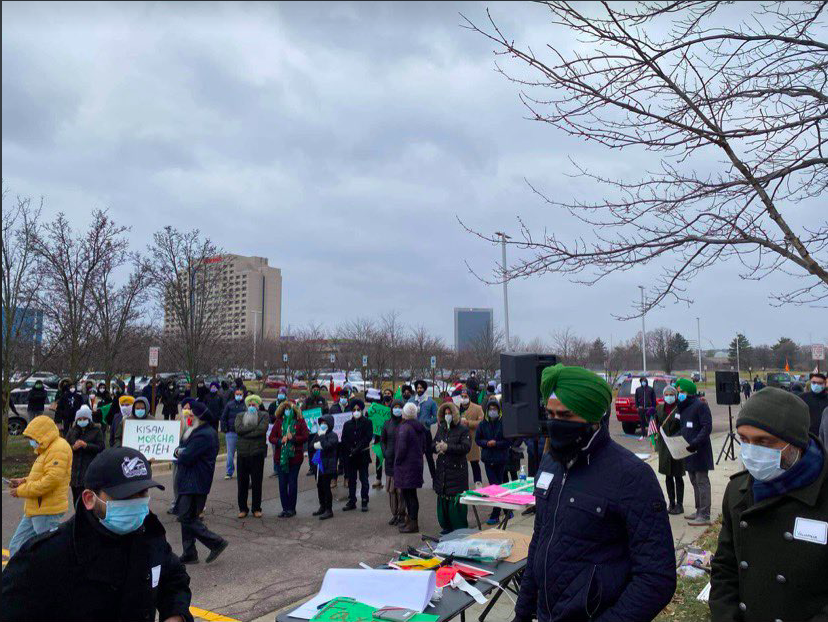 Jhajj's protests were featured on WXYZ-TV, WDIV-TV and in The Detroit News.
"We were hoping to get media attention so that every American would know how the Indian government treats their farmers who are feeding the nation," Jhajj said.
Eric Montgomery, a WSU faculty member with the Center for Peace and Conflict Studies, said he has been following the protests since the very beginning. 
"Although the world is sort of sidetracked, these are both the largest and biggest protests in the history of the world," Montgomery said. "The new laws may seem to give farmers choice and freedom, in that they would have farmers sell directly, but the likelihood is that they would slowly become vulnerable to a few ugly powerful corporations, cutting out the governmental middleman, in this case, the state's Agricultural Produce Market Committee."
Beginning November 2020, thousands of farmers used tractor convoys to set up blockades at New Delhi's borders and thousands more began marching towards the city, CNN reported. Police have responded to protesters with tear gas and water cannons to stop them.
Protests, including hunger strikes and peaceful demonstrations, have continued. At least 248 farmers have died at the borders outside New Delhi, according to Al Jazeera. 
The Indian government has been on the receiving end of backlash after news that the protests turned violent broke, according to CNN. Protests have erupted across the world as the Indian diaspora fights for farmers in their homeland.
Mobile internet was suspended in parts of Delhi, a technique used by repressive regimes around the world. Salina Patel, a WSU sophomore of Indian descent, majoring in psychology, said she feels angered by the media suppression.
"As an overseas Indian citizen, I feel hurt by this humanitarian crisis happening with police brutality, discrimination and fascism in my other home," Patel said. "This is clearly a media lockdown, and a sign of fascism by the Indian government."
India's most recent Census in 2011 revealed that agricultural workers make up more than half of India's workforce and they are the largest voter bloc in the country, according to CNN. Modi's new laws may result in him losing the support of farmers in his next election in 2024.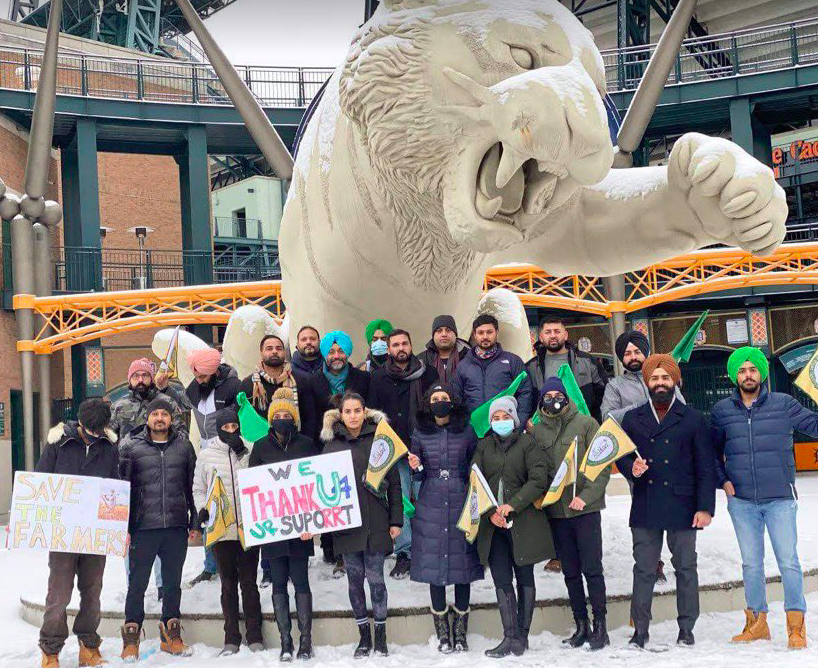 Jhajj said he knows, firsthand, the pain felt by small farmers in India. 
"My parents and most of my relatives live in India," Jhajj said. "Agriculture is our heritage. My grandfather, great grandfather, all were doing agriculture. Our family and most farmer families' livelihood depends on agriculture." 
Not only does Jhajj's family have a history in agriculture, he said, but the income they made is how they were able to receive a higher education.
"My father completed his studies, because my grandfather was able to pay for his tuition from the farming," Jhajj said. "This is true in my case too that my father paid my tuition fees from the farming income."
---
Amelia Benavides-Colón is a contributing writer for The South End. She can be reached at hd4634@wayne.edu.
Photos taken at a protest in Detroit against India's new farming laws provided by Amandeep Singh Jhajj on Jan. 24.