Wayne State University is in the midst of several construction project aimed at improving student life. Some involve the erection of new facilities, and others are to renew existing structures.
"The new construction is exciting," explained Harry Wyatt, the Associate Vice President of Facilities Planning and Management, "but we can't forget about all the work that goes on every day to maintain our current buildings."
Anthony Wayne Drive Apartments 
The 395,000 square foot Anthony Wayne Drive Apartments will be comprised of studio, 1-bedroom, 2-bedroom and 4-bedroom residences as well as ground-level retail space. In addition, it will house the student health services center once it is completed.
The 40-year Corvias Campus Living agreement is being finalized this week. The goal of the partnership is to provide an affordable solution to the on-campus housing need. During its tenure it will provide Wayne State with over 1 billion in total value. While the univerist will still own the property, Corvias is responsible for managing and maintenance of the building and has contracted Detroit-based architecture firm Hamilton Anderson Associates and Gilbane Building Company. Phase one was started in spring of 2017, and is expected to be complete by Fall 2019.
Chatsworth Tower Apartments
Chatsworth will be gutted and the majority of the apartment areas will be redone into suites throughout the building. "Chatsworth certainly has a historical flavor to it," said Wyatt, the of, "That will be preserved as much as possible and rehabbed as much as possible."
Wyatt added that the exterior of the building will look the same, but will be refurbished when it is completed in fall of 2020.
Data Center Addition and Park
The Data Center on Woodward Avenue will have its IT infrastructure expanded. According to Wyatt, this 16.9 million dollar project is slated to start "very, very soon," and will be finished in the fall of 2018.
"It will also result in what I would call a pocket park that will buffer the new data center from Cass Avenue," said Wyatt. "It will be a nice amenity for students, faculty and residents of the neighborhood."
Electrical Upgrades
The university has been collaborating with DTE in a 6 million dollar project to convert from a city run electrical program.
"While DTE is doing this all over the city, it provides a good time for the university to piggyback on DTE's work and replace vulnerable infrastructure," said Wyatt. "Over the next couple of years, every building will be converted."
Hilberry Theater
Although it's not been funded yet, the renovation of the Hillberry Theater on Cass Avenue, construction of an additional theater and support facilities has been presented to the Wayne State Board of Trustees. If approved, it's estimated that it will cost between 60-65 million dollars.
Matthaei Physical Education Center
Currently, a weight room addition is under construction. The 11,000 square foot building will cost 2.5 million dollars and will be complete in March of 2018.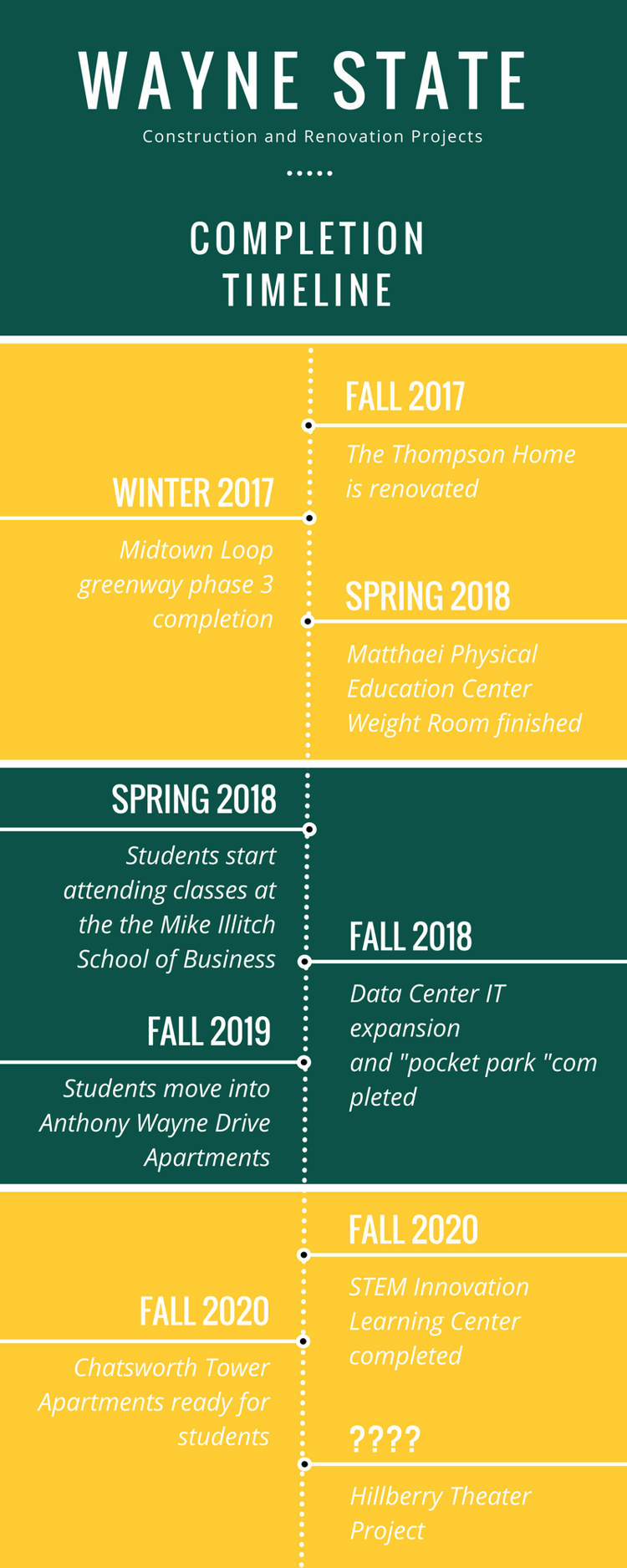 Midtown Loop
"Partnering with our local anchor institutions, such as WSU, is extremely important in continuing to revitalizing the Midtown neighborhood. Working closely with WSU allows us to coordinate our efforts to sure we are strategically planning for the neighborhood as well as ensuring the best for students, residents, visitors, businesses and more," said Elise Fields, the senior program manager at Midtown Inc. 
Phase three of the Midtown loop, the Cass avenue portion of the 5-mile greenway, was paved in partnership with WSU. It will be finished in the net few months if weather permits.
"It provides enhanced landscaping, lighting, trash receptacles, pedestrian lighting, benches and drinking fountains that those living, working, playing or visiting the neighborhood can enjoy." said Fields. "It connects WSU to DMC to Eastern Market and to the Dequindre Cut, which ultimately connects to the Riverfront."
Mike Illitch School of Business
The Mike Illitch School of Business will be located in the heart of The District Detroit, a neighborhood revitalization effort spearheaded by Olympia Development. According to Anne-Lee Vandenbussche, director of project management, the school is currently on schedule and within the budget. The school's location is in line with WSU's other efforts to invest in the renewal of Detroit's neighborhoods. She also explained that it's ideal for students, including those who balance a job with their schoolwork.
"Most of the population that goes to [The business school] does work," said Vandenbussche. "So, they're working in the same area that they most likely are or will be working. It's a great opportunity for students to connect with corporate Detroit Partners while they're still in school."
STEM Innovation Learning Center
By Fall 2020, the partly state-funded STEM innovation learning center will be completed. It's budgeted to be a 40 million dollar project, which will also draw form WSU bond funds.
"The university has just received an [state] appropriation for the planning phase for this building," said Wyatt. "The university is seeing this as a good opportunity to illustrate what can be done in terms of innovative teaching spaces for STEM."
Thompson Home
The newly renovated Historic Detroit Landmark, Thompson Home was originally designed by George Mason in 1874 and served as a home for elderly women. An interior demolition allowed a complete renovation of the apartments while preserving the historical significance of the structure.
"Lots of exciting stuff on the Horizon," said Wyatt. "The overarching goal is provide a good environment for teach learning and research. That comes in all sort of forms, whether it's a traditional classroom or a laboratory or spaces that encourage interdisciplinary work."