If a car, equipped with high-tech sensors but missing a steering wheel, passes by in the Brush Park neighborhood, there's no need to panic. It is the CAR lab at Wayne State University, helping usher in the future of mobility, with its autonomous vehicle shuttle. 
The shuttle, from French self-driving car company Navya, operates weekdays from 9 a.m. to 5 p.m., providing non-medical emergency transportation between the Detroit Medical Center and Brush Park Manor Senior Housing. The shuttle also stops along the way at the Brewster Homes.
Weisong Shi, CAR lab director and professor of computer science, leads WSU's involvement in the study with P.h.D students.
The CAR lab's primary partner in the study is IXR Mobility Inclusion, a company dedicated to providing autonomous vehicle access to people with mobility challenges, Shi said.
The Michigan Economic Development Corporation funded the CAR lab's study. According to their website, MEDC collaborates with partners to push the state forward as a leader in economic development. 
Students began working on the CAR lab's study Aug. 17 and will continue until the study ends this month, said Zhaofeng Tian, electrical vehicle engineering graduate student. 
The study helps researchers examine autonomous vehicles in real world situations, said Jinghui Liao, computer science Ph.D. student. 
"I think it's important because it helps us address the real problems," he said.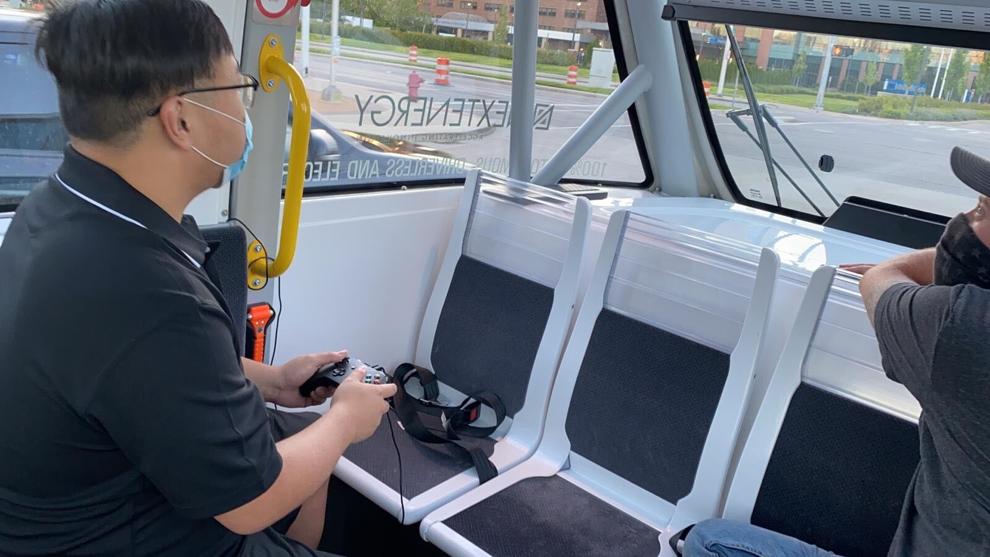 Navya's shuttle uses light detection and ranging sensors to calculate the distance between itself and the environment, according to Navya's website. In manual mode, the shuttle relies on an Xbox controller, Tian said. The shuttle is capable of driving autonomously about 95% of the time, depending on road and weather conditions.
"If the weather is bad, like cloudy or rainy, the signal of Global Navigation Satellite System could be lost," he said.
The Global Navigation Satellite System consists of a "constellation of satellites in space" that provide signals to the shuttle's receiver so it can interpret timing and space between other objects, according to the European Global Navigation Systems Agency. 
Lidar sensors are expensive, so autonomous vehicles, like Tesla's, rely on cameras, Shi said. 
The biggest problem the team needs to solve is the shuttle's recognition of steam on Detroit streets, Liao said.
"The LiDAR we are using on the shuttle, it actually can detect the steam on the street. If there's steam in front of you, the shuttle will stop," Liao said. 
Teaching the shuttle to recognize work zones using edge computing could solve the error, said Ren Zhong, computer science Ph.D. student. 
Rather than relying on a data center hundreds of miles away to do computing work, edge computing performs these tasks at the source of the data, according to The Verge. This reduces information delays between technology and allows self-driving cars to communicate. 
To solve the problem, the data could be shared between a car that isn't impeded by steam and one that is, Ren said. 
Autonomous vehicles are important because they can solve mobility challenges in cities, especially parking and traffic congestion, Shi said. Parking spaces, which waste resources, can be reduced if a city has many on-demand autonomous vehicles running 24/7. 
Cavnue, a Sidewalk Infrastructure Partners company, is building a 40-mile autonomous lane from Detroit to Ann Arbor, Gov. Gretchen Whitmer announced in August. 
While the two projects aren't directly related, the CAR lab team spoke with Cavnue about how the Navya shuttle study could benefit the lane in the future, Shi said. The CAR lab's research could help Cavnue understand how the vehicles can communicate with other devices near the lane.
The Navya shuttle study will also help with scalability analysis, which is the vehicle's way of handling new devices like location mapping and sensors, Ren said. 
Navya's shuttle costs around $350,000, while Hydra, the Ford Fusion-based autonomous vehicle the CAR lab is building, will only cost around $120,000 once completed, Shi said.
The team at the CAR lab is applying Hydra's operation to their research on how autonomous vehicles perform in different settings, Shi said.
"We are actively using it to support our mobility training program and research activities on autonomous driving —such as lane detection in bad weathers, autonomous parking," he said.  
Wayne Mobility, founded in February to tackle mobility research and community needs, recently launched the Mobility For All Competition. As part of the competition, teams of students and faculty will compete to solve mobility challenges submitted by the public, Shi said. The competition will run from October 2020 to October 2021.
"No matter who is submitting a proposal on this, you have to work with the community to solve  real-world issues," he said. "We don't take a purely just research papers kind of proposal." 
With more than 15 industry partners, the CAR lab has pushed WSU to the frontier of research and helped fund new programs for the future of autonomous driving, Shi said. 
"It's very good evidence that we already build our reputation not just in Detroit, but also nationwide," Shi said.
---
Cassie Hall is a contributing writer for The South End. She can be reached at gj4129@wayne.edu.
Photos by Zhaofeng Tian.