To close out Women's History Month 2019, TSE will be publishing an article every day this week that highlights the accomplishments and goals of a featured Wayne State Warrior.
Effervescent colors and conceptual designs are the best way to describe Izzy Alo's style philosophy.
Izzy is a sophomore fashion design and merchandising student, who formerly worked as a retail and design intern for Detroit is the New Black. Currently, she is a personal stylist for Tender, a boutique in Birmingham.
"This job is kind of my dream job. It's sometimes really nerve-racking to be a stylist. You're are in charge of a person's whole entire look from their clothes to shoes and their accessories," she said. "Being a stylist is difficult, you have to understand what every customer's style is, how certain elements suit their body and what overall message they want to convey with their outfit."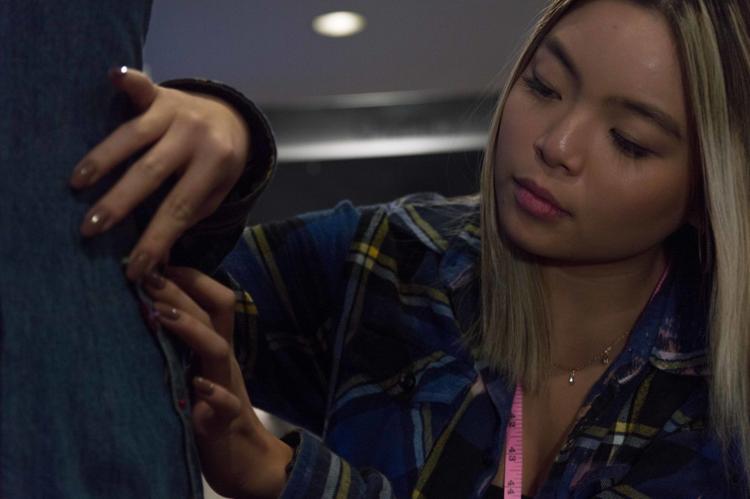 It's difficult for stylists to sell one article of clothing or a single accessory, Izzy said. So, when she had her first successful full-body sale, it was an indescribable feeling.
"The first time I styled someone completely from head to toe, I was pretty nervous. However, the customer loved it and bought the whole thing," she said. "It made me so happy when the customer loved what I chose specifically for her, because being a stylist is a great deal of personal responsibility."
Izzy was raised in a household of creatives. Her mother is a graphic designer and art director and her father is a web programmer who is also a DJ. Her stepfather is also a painter and former adjunct professor who's been showcased in the Detroit Institute of Arts.
"It was amazing growing up in a creative home because my mom would always tell me stories about how her parents didn't support or care about her artistic endeavors. She went to the College for Creative Studies, and her parents did not support it at all," she said. "I feel supported all of the time, and both of my parents encourage me to explore who I am artistically. They would always encourage me to paint, draw, play music or do performance art. It was really amazing growing up in an environment where I could explore who I was and what I liked and didn't like. It helped me know myself as an artist."
While growing up, Izzy said she always gravitated toward fashion.
"Fashion is a form of expression and art that you can wear on yourself, and I think this aspect of fashion is what drew me to study it in college," Izzy said. "When I started at WSU, I wasn't sure if I wanted to do fashion design or fashion merchandising, which are very different. When I started working more in the industry, I realized I was much more passionate about merchandising, but I still design as a hobby."
Currently, Izzy is a full-time student, but also has a few side hustles. During the months of November and December, she started a small business selling holiday rum cakes.
She also started a business upcycling clothes and sells them or takes custom orders. So far, Izzy has made an array of clothing ranging from The Powerpuff Girls costumes to sleek mock neck tops.
Her business is based on Instagram, and it's more of a passion project rather than a business, she said.
"I see it as a way of relieving stress and pursuing my passion after a long day of work. It makes me feel like I'm going somewhere by practicing my craft," she said. "I was so happy when I got my first order, I love sewing for other people and just making other people happy. I'm the type of person to go all out for a gift, so creating something for someone makes me so happy. The fact that they actually want what I create is almost a euphoric feeling."
For blossoming artists, Izzy suggests they experiment with different mediums and designs to cultivate their creative identity.
"Do not underestimate things you are scared of (and) keep trying different things," she said. "If you're lost in general, and you just don't know what to do keep trying different things. Whether you're in music, business or anything, just keep trying and you'll really figure out what calls to you."
For budding designers, Izzy says, "Don't be afraid of color, non-traditional designs or cutouts. Try it out and just see if it works."
For more of Izzy's designs, check out her Instagram page. 
---
Slone Terranella is news editor of The South End. She can be reached at gh7510@wayne.edu. Photos by Jonathan Deschaine.