Members of Wayne State's Board of Governors disputed over President M. Roy Wilson's performance at the board's March 20 meeting.
Board members Michael Busuito, Sandra Hughes O'Brien and Dana Thompson criticized Wilson's handling of negotiations with the Henry Ford Health System, particularly the "financial costs of the medical school consultants and their lack of results," Thompson said.
Wayne State paid out-of-state consultants $7.5 million over 3.5 years to create a partnership with Henry Ford Health System — a deal that has yet to be finalized, according to The Detroit News.
"The actions of the Roy Wilson I know serving at the direction of the board are a disgrace to this university," Thompson said. "If Roy Wilson has any shred of integrity left in him, he would be leaving this university after today's board meeting."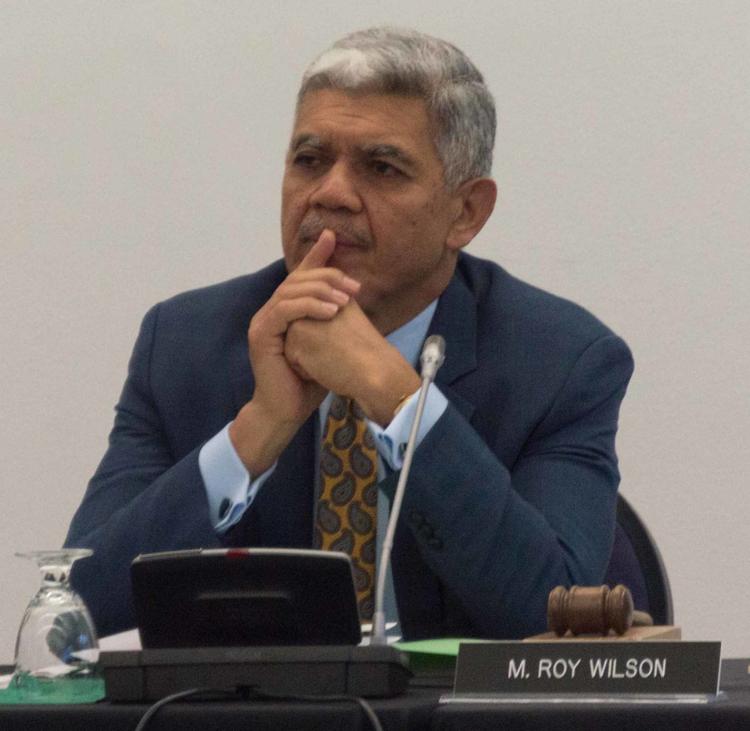 Wilson brought in several consultants in 2015 to build a stronger relationship with Henry Ford, and after three years, the consultants presented a non-binding letter of intent, O'Brien said. In September 2018, the board unanimously approved a motion for the creation of a letter of intent with Henry Ford.
Thompson and O'Brien said the WSU-Henry Ford letter of intent contained problematic content. The non-binding LOI would make Henry Ford the primary institutional medical affiliate for the WSU School of Medicine, College of Nursing and the pharmacy and health sciences school.
O'Brien said the opposition from several board members of the Henry Ford deal is "entirely appropriate."
"The BOG is not opposed to an expanded and more meaningful relationship with our long-term partners Henry Ford," she said. "Several board members, however, are opposed to the use of millions of taxpayers' dollars to compensate consultants for a poor work product."
O'Brien said the letter of intent had no input from the School of Medicine faculty, or the AAUP-AFT union.
"Chief of the concerns was that the LOI would place control and authority of WSU's 150-year-old medical school into a private limited company controlled by a separate private board," O'Brien said. 
O'Brien requested Wilson and his administration to "go back to the drawing boards" and continue negotiations with Henry Ford based on board members' feedback.
Thompson raised concerns about Wilson withholding information from her, Busuito and O'Brien regarding the contract of David Hefner, former vice president of health affairs. She said they had to send individual Freedom of Information Act requests and after the requests were processed, "Roy relented and sent us the documents."
Hefner and Jack Sobel, former dean of the medical school, are set to complete their contracted terms and step down from their posts. Their terms end July 31 but can leave once replacements are found.
"The overarching concern in this situation is that Roy wants to decide when and how he thinks we should get information," Thompson said. "Imagine a president of a university forcing his board members to FOIA information they are legally obliged to receive about the university?"
Board chair Kim Trent said Wilson has done an excellent job and the board's role is to guide him.
"This board delegates authority to the president of this university," she said. "His lane is running this university, and our lane is policy. We are here to guide the president and to track his progress."
Trent said what the board shouldn't do is go to the press when there is a fragile negotiation going on. According to a Crain's Detroit Business article, Busuito advised a Detroit News reporter to look into contracts of three consultants of the medical school.
"We extended his contract because he's done an excellent job," she said. "For members of this board to sit here and suggest that this man who has demonstrated nothing but integrity to be ashamed, no colleagues, we should be ashamed that this conversation even took place today."
Board member Mark Gaffney said he also supports Wilson and said he found Thompson, O'Brien and Busuito's statements regarding Wilson to be incorrect.
Wilson left the meeting before reporters could request comment.
"As long as I sit on this board, be rest assured that I will continue to remind this man and let the world know Roy Wilson is unfit to serve as president," Thompson said. "He can decide to double down after today's meeting and run back to his handlers in the media and some in the corporate community, but it won't be a pretty ride for him here."
Also at the meeting:
● BOG approves of Towers Cafe expansion, providing 300 additional seats
● Approval of the establishment of a Bachelor of Science in Neuroscience
● Audit of fiscal year of 2018 presented
● Lease approved for Verizon Wireless to locate antennae and supporting equipment on the rooftop of Anthony Wayne Drive Apartments.
● Approval of three requests from the Contingency Reserve to search for vice president, health affairs and dean for School of Medicine, AVP for Facilities Planning and Management and executive director at the Office of Business Innovation.
---
Susana Hernandez is The South End's WSU Board of Governors and campus housing beat reporter. She can be reached at susana.hernandez@wayne.edu.