In his fall 2016 University Address, President M. Roy Wilson reviewed Wayne State's progress, addressed shortcomings and discussed his goals for the future through the WSU community embodying the university's mission on Sept. 12.
"Create and advance knowledge, prepare our diverse student body to thrive and positively impact local and global communities," Wilson said. "A powerful mission with three important parts: knowledge, education and impact."
Wilson said his emphasis of the university's mission has come in the midst of the Higher Learning Commission's accreditation process. He said the HLC must submit a 30,000-word report on all aspects of the university in relation to the mission statement, vision and values.
"[HLC expects] everyone who is a part of this university to know our mission," Wilson said. "That's everyone: faculty, staff, students, administration, even our Board of Governors and they're going to ask, randomly, on our campus and in our community… we must be prepared." 
Wilson also acknowledged areas in which the university has room for improvement. 
Wilson said WSU has dropped 21 slots over ten years in the National Science Foundation's total research and development rankings for public institutions, from 43rd in 2003 to 64th in 2013.  
In response, Wilson said he aims to put more emphasis on research infrastructure, expand biomedical research training and strengthen WSU's Ph.D. programs – which he admitted have been under-resourced.
He said the current student body stands at around 27,504 and 7,417 students were welcomed to campus last week, a 3.5 percent increase over last year's incoming class and said there is a strategic plan in place to increase overall enrollment to 30,000 students by 2021. 
"Right now, the numbers show that we are up about 0.8 percent. That's not a giant increase, but it's a great start and it is the direct result of hard work by people across the campus," he said.
Despite the fall 2015 freshman retention rate increasing to nearly 4 percent, Wilson said not all students have seen graduation rate gains. In particular, African-American, first generation and low-income students have seen lagging retention.
"Black students are only one-fourth as likely to complete their degree in six years at WSU as white students, one of the largest gaps in the nation," Wilson said. "This is an embarrassment for our university. It is not fair to our students, and there is a moral imperative to make this right."
Looking forward, Wilson said WSU will be using predictive analytics to identify students at risk of dropping out, pushing for early intervention with coordinated support and identifying and transforming courses that are barriers to some students.
Additionally, Wilson responded to the significant financial losses between the School of Medicine, the WSU Physician Group and the Fund for Medical Education and Research, which resulted in a deficit amount to $32 million.
"We've made significant progress in getting our house in order," Wilson said. "Our finances have improved. In fact, we expect to be fiscally sound by 2018. We have instituted new processes in many areas, including, importantly, budgeting and planning. We have new leaders in place."
Wilson told the WSU community to think about how they will live the WSU mission and keep the creed in their thoughts.
He said the pieces are in place for ambitious, strategic plans that will be systematically implemented and he hopes to see the campus community and its supporters working together to help the university reach its potential.
"We – all of us at Wayne State, starting with me – have a responsibility to each other, our students, our community, our future," he said. "I am confident that we are on a trajectory to becoming a pre-eminent, public, urban research university known for academic and research excellence, success across a diverse student body and meaningful engagement in its urban community."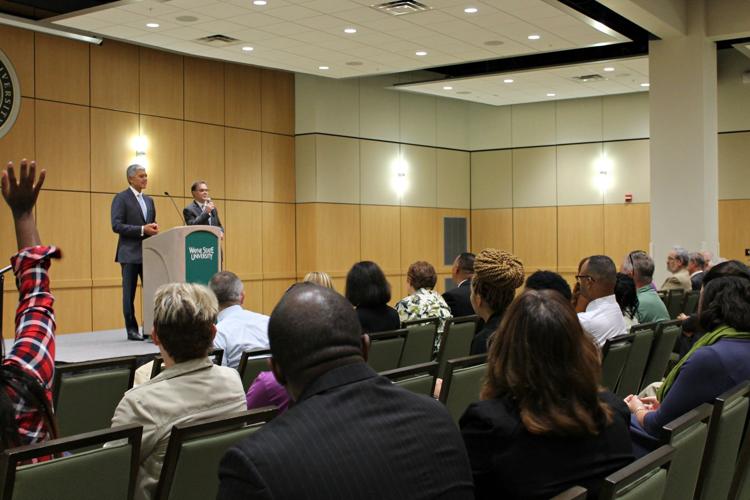 Wilson said campus community members can share their thoughts about their role in the university's mission at president@wayne.edu. He said he plans on sharing the words that most inspire him in various capacities, and will begin writing a blog in the future.
---
Contact features editor Aleanna Siacon at aleannasiacon.tse@gmail.com. Follow her on Twitter @AleannaSiacon.