As attendees entered Manoogian Hall's African American room for Wayne State's Black Student Union's annual Kwanzaa celebration on Monday, they were warmly greeted and offered a zawadi — Swahili for gift. 
Kefentse Chike, professor of African American studies, gave a brief history of the holiday to the packed room of Wayne State students and faculty that spanned from many ethnicities and age groups.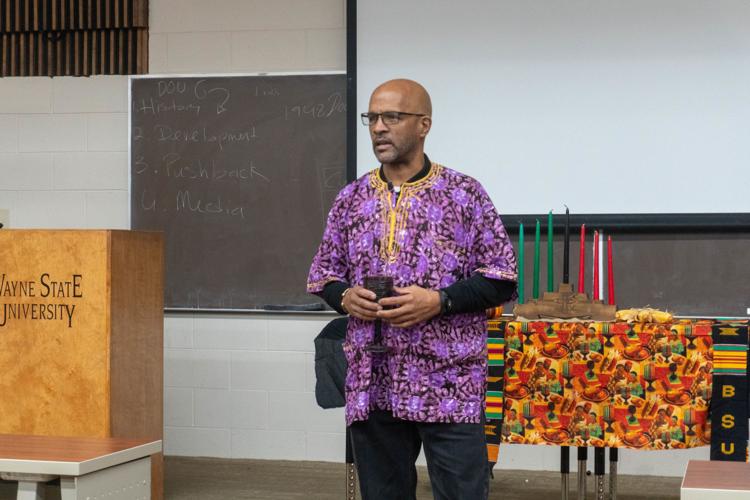 Kwanzaa was established by Maulana Karenga in 1966.  The holiday was founded to reinforce positive aspects of African American culture, which aim to heal the trauma of slavery, Jim Crow laws and modern-day racism.
The word "Kwanzaa" means first in Swahili and it signifies the first fruits of the harvest.  While Swahili is a language spoken in many African nations, Kwanzaa is solely an African-American holiday with roots in African tradition.  It is not celebrated in Africa, though it has been globally adopted.
"The essence of who we are is not the physical, it is the spiritual," said Chike as he explained the Kwanzaa tradition of offering the past, present and future generations of African descendant libations, which is a ritual pouring of liquid or grain.  
BSU President Devan Keys was the event's mistress of ceremony.  The graduating senior joined the BSU in her freshman year after binge-watching "A Different World," the previous summer.
"I was trying to find my community and the Black Student Union was the first organization that I found that took me under their wing," Keys said.  She said she plans to incorporate Kwanzaa celebrations into her personal life after graduating.
Other students in attendance expressed sentiments similar to Keys's. Ray'Jon Williams-Jackson, a kinesiology and exercise science major, joined BSU in search of students who shared common ideas.
"As an African-American male, the Black Student Union aligned with some of my values like bringing awareness to others about the Black community," he said. 
 Williams-Jackson said he has celebrated Kwanzaa in the past with his family and hopes to continue the tradition once he builds a family of his own.
 Maxine Hudgins, BSU's faculty adviser, has been working with the group since 2009.  
"Because you have students who have been here since their freshman year, we're able to put this event on fairly easily each year," she said of the annual celebration. "There are anywhere from 60 to 80 students in the organization, and they do a good job of passing the knowledge they have down to the newer members."
Kwanzaa is celebrated by people of all races annually Dec. 26 through Jan. 1. Students interested in joining the BSU can contact Hudgins at mghudgins@wayne.edu.