The Wayne State Board of Governors meeting held on Sept. 23, approved a partnership with a private company to take over on-campus housing as well as a $25,000 raise to President M. Roy Wilson's salary.
The housing initiative will turn over campus living to Corvias Campus Living, that will provide the university with $1.4 billion over a 40-year term agreement. Corvias will initially invest $300 million to pay off a $102 million existing housing debt.
Beginning in 2017, Phase I of the project will begin with the construction of Anthony Wayne Apartments, demolition of the Helen L. DeRoy Apartments and renovations to Chatsworth Apartments.
"All the major capital projects are expected to be completed by 2021–making an additional 842 beds available to students on campus," according to a BOG press release.
Through the second half of the meeting, BOG chair Gary Pollard set forth a motion to ratify an earlier motion made on July 22, giving Wilson a raise of $25,000 to his $497,000 salary for the 2015-16 academic year, as a part of the contract he signed with WSU.
"His contract is low compared to presidents of many other institutions," Pollard said. "In his three years, President Wilson has had a profound impact on this institution. Under his leadership, the university is stepping up to both courage and urgency."
He said Wilson models cultural values, beginning with excellence and integrity, citing gains in six-year graduation rates and retention.
"Under his leadership, we have our first increase in total enrollment in seven years. He built strong connections with students and faculty," Pollard said. "He is a leader who is trusted and willing to step up, lend a hand and be held accountable. We are thankful for his outstanding efforts on behalf of this university. We have no doubt that President Wilson has led this institution with his tireless efforts."
Following Pollard's motion, Professor Emeritus Francis Shor addressed the board in a public comment, saying he is opposed to the president's raise.
"My opposition to the president's raise is not based on any animus towards the president, who I believe is acting with honorable intentions to make Wayne State a better institution," Shor said.
"While we all recognize how declining states support has especially hurt Wayne State, this is not the only explanation for what have been unconscionable increases in tuition, such that the sons and daughters of Michigan working families are either priced out of Wayne State or take on additional debt to graduate with a Wayne State degree," he said.
Minister Malik Shabazz, leader of the New Marcus Garvey Movement/Black Panther Nation, was also present for public comment.
"To raise tuition says we're not trying to recruit Detroiters," he said. "It's the wrong time for a $25,000 increase."
Shabazz said he'd support a bonus if there was an increase of minority students on campus, going on to directly asking Wilson to donate his raise to the Black Lives Matter movement or Detroit Public Schools.
After public comments, board member Kim Trent praised Wilson's work with the university, including consistent six-year graduation rates for black students and a 31 percent increase in black graduate students.
Trent said she did not regret voting for Wilson's raise.
"Because of his leadership...we went from having four black students in the medical school to 40 without, in any way, sacrificing our quality of the university," she said. "By any fair measure, he's earned his bonus. For some reason, there are people in this room who have decided the president and this board are the enemy. None of us wants to increase tuition."
Trent said the activists present at the meeting should take their concerns to Lansing, Michigan, to increase higher education funding in hopes of not raising tuition.
Board member Dana Thompson said she was voting against the raise due to a lack of transparency.
"When the board sees there are issues that are not being appropriately addressed, it's the role of the board to raise those issues and make sure those issues are dealt with appropriately," she said. "I have been concerned with several aspects of decisions that have been made at the university."
"The board did not have knowledge of the math suspension before it happened. What concerns me is a lack of transparency. With the math suspension and [Mike Ilitch School of Business] deal, the board had access to information before the deal was made."
Thompson said that in order for the board to do its job, the board needs to have information in a timely manner.
"We are elected officials," she said. "We are responsible not just to the university, but to the state of Michigan."
After hearing all public comments, the board moved to ratify the motion, with Thompson as the one dissenting vote.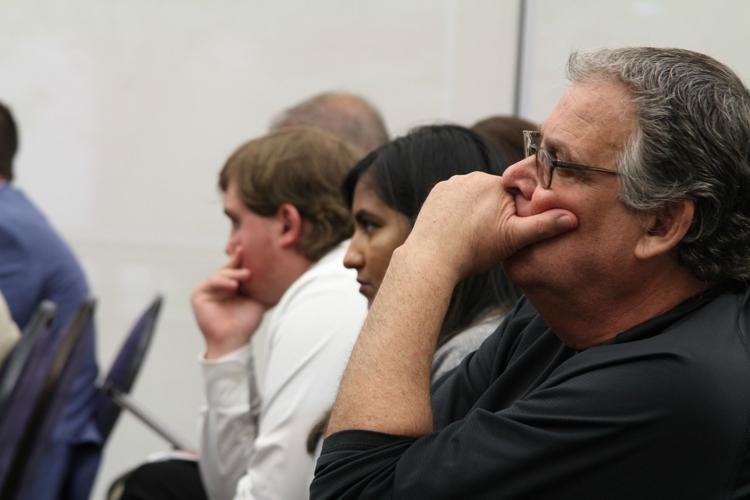 The next Board of Governors meeting will be held on Dec. 2.
---
Contact Editor-in-Chief Kiran Saini or Managing Editor Sarah Rahal at thesouthendwsu@gmail.com.