Wayne State began construction on the new STEM Innovation Learning Center this month, leaving a section of Gullen Mall fenced off near the intersection of Second Street and Warren Avenue.
The project will transform the 100,000-square-foot Science and Engineering Library into the STEM Innovation Learning Center with an expected cost of $49.5 million. Construction is scheduled to be completed by August of 2020, according to the Capital Outlay Project Request.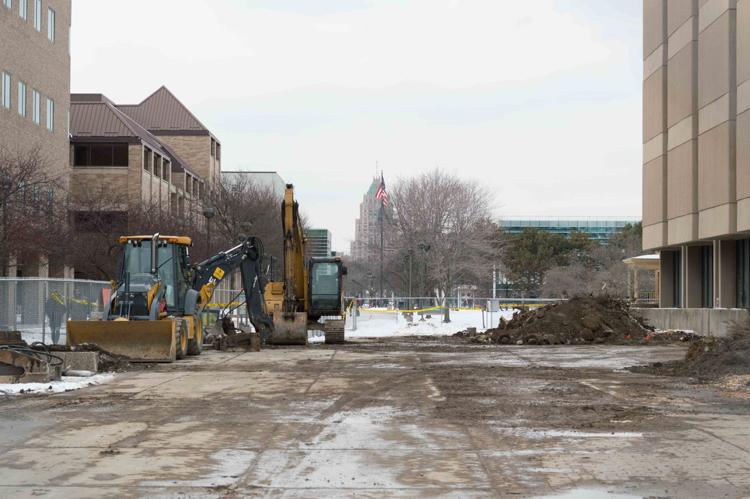 The Five-Year Capital Plan, submitted to the state in 2017, focuses on the renovation of the Science and Engineering Library. The project's budget was originally set at $40 million. However, during a WSU Board of Governors meeting on Dec. 7, the body approved to raise the STEM center's budget by $9.5 million, for a total budget of $49.5 million.
Of the $49.5 million, the state will fund $14.75 million and the remaining $34.75 million will be funded through university bonds, according to BOG documents.
State funding was approved by former Gov. Rick Snyder in June, according to the plan.
"The project is a full renovation of the basement and all seven floors of the Science and Engineering Library," Director of Planning and Space Management Ashley Flintoff said.
The project is part of an effort to meet the rising need of professionals in the STEM fields, according to the Capital Outlay Plan. The STEM Innovation Learning Center will include undergraduate lab classrooms, a makerspace, a hackerspace and collaboration spaces.
"The project will provide undergraduate instructional laboratories and support spaces for the 25 foundational STEM courses in biology, chemistry, math, and physics," according to a 2017 news release from the university. "Space will also be provided for courses in engineering, computer science, geology, nutrition and food science, psychology and anthropology, all of which demand more instructional laboratory capacity due to the growth in undergraduate student enrollment."
The section of Gullen Mall that's currently closed off will be used as a construction laydown site to store materials and bring in machinery. The site will be closed for the majority of construction Flintoff said.
"Those barriers will come down, and we will start the restoration of Gullen Mall sometime in the early part of 2020," she said.
---
Ken Narita is The South End's general assignment reporter. He can reached at ken.au.narita@gmail.com. Photos by Jonathan Deschaine.