Joumana Kayrouz, 1997 Wayne State University Law School alumna and famed personal injury lawyer, related stories of her time at WSU, her issues with self-doubt and her road to success to students at the Damon J. Keith Center for Civil Rights Oct. 16. 
Kayrouz is known by residents for being the advertising queen of metro Detroit. Billboard advertisements for Kayrouz's firm typically feature her likeness and are practically unavoidable when driving around Detroit.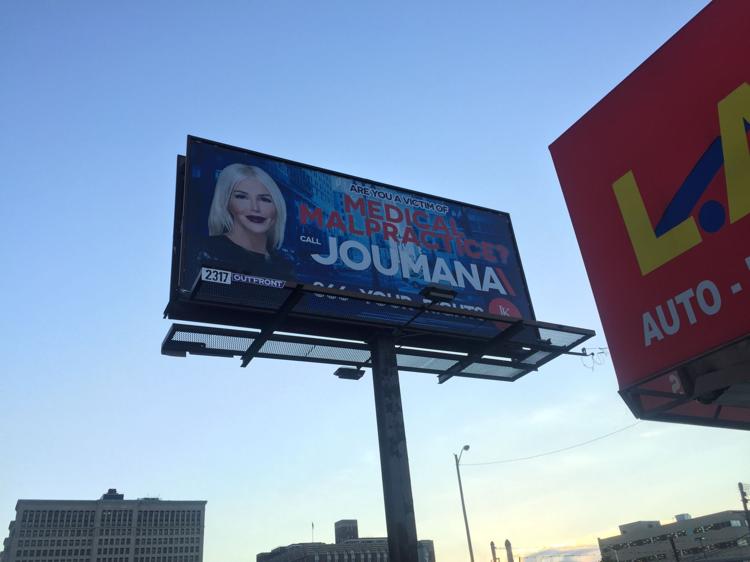 She currently has over 750 billboards and bus advertisements plastering her face around southeast Michigan, she said. Her law firm is one of the largest in the state and has an advertising budget of $4.3 million a year, according to the Detroit Metro Times.  
Kayrouz started the discussion by reminiscing on her past and her source of motivation for success. 
"I started from the ground up with absolutely nothing," Kayrouz said. "I came to this country with only $1,000. I was a single mom with two daughters. It was sink or swim for the three of us. I needed to make it." 
Kayrouz graduated from Yale University then moved to Detroit with her then-husband. She attended law school at WSU because the school's four-year program and reputation attracted Kayrouz, she said. 
"There is no denying facts, the U.S. News and World Report puts University of Michigan's law school at fifth or sixth nationally," she said. "However, out of all of the law schools in Michigan, Wayne State was the hardest to get in to, and it was the very best."
Kayrouz said her main struggle during the early stages of her career was self-doubt. 
"I never thought I was enough, had enough or knew enough people," she said. "During facilitations when I would accompany other lawyers, the big boys in the courtroom would never pay attention or listen to my opinion." 
Kayrouz said she had to fight to kill the inner-demon of self-doubt. 
"I had to hold onto my strength and remember who I am," Kayrouz said. "It's very human to feel that you're not good enough. If you have to fake it until you make it that's okay, because you can fake it and you will make it." 
Another issue Kayrouz focused on during her discussion was women empowerment. She said her status as a lawyer by a Wayne County judge was questioned shortly after her graduation from law school. 
"During one of my first cases, a judge did not believe I was a lawyer," she said. "He made me feel extremely embarrassed. I remember looking at him and thinking to myself that one day he will know my face."
Shirley Rivas, a first-year law student, came to the event for career guidance about litigation law. Rivas said she had no idea who Kayrouz was until she walked into the room and recognized Kayrouz from her billboards. 
"I'm not from Michigan, so I didn't recognize her name in the invitation," said Rivas. "I saw her face and realized it was the Joumana on the billboards, I can say I'm pleasantly surprised."  
Tarik Baraka, a third-year law student, said he was star struck when he saw her.
"It's not every day where you get to sit down with an amazing lawyer and surround yourself with that degree of intelligence," Baraka said.
Many students who attended were simply interested in meeting the woman behind the billboards.
"You can't drive a mile in Detroit without seeing her face, and I wanted to learn more about who she is," said third-year law student Arthur Griem. "I think personal injury lawyers get a certain negative reputation. She surprised me because she seems like a very spiritual and caring person. It's special to meet a Wayne Law alum who's reached her level of success." 
Kayrouz ended the event by dispelling law school myths and attempting to instill a sense of motivation into the crowd. 
"I make mistakes. I know what I know, but there is a lot I don't know. I am a work in progress," Kayrouz said. "Surround yourself with the best minds and learn as much as you can. Work on your craft regardless of your GPA." 
---
Slone Terranella is news editor of The South End. She can be reached at gh7510@wayne.edu.
Cover photo by Slone Terranella.