Dean Jocelyn Benson has resigned from her position at the Wayne State Law School to become the CEO of the Ross Initiative for Sports and Equality.
Associate Dean of Wayne Law Lance Gable will take her place as interim dean until a permanent dean, who will take office in 2017, is found. 
Benson said the Ross Initiative for Sports and Equality incorporates bringing people together to talk about race by using the unifying power of sports.
"We come [from] various different backgrounds and perspectives, but on game day, we are all on the same team," Benson said. "Our theme, our recognition is that it takes all colors to win."
Benson said that as dean, she wanted to increase Wayne Law enrollment and wanted the law school to go up in ranking and become nationally known. 
She said she also looked to reconnect Wayne Law alumni, who "are the best and brightest in the state of Michigan, as well as nationally," to reach out to students. She implemented many of these current changes to Wayne Law.
"I'm glad that in under four years, I accomplished all those goals," she said.
Although Benson is stepping down from her position as dean, she said she will remain director of the Levin Center at Wayne Law and will co-teach a course on legislative oversight with former U.S. Sen. Carl Levin.
The university will conduct a search to replace Benson, but Associate Dean Lance Gable will serve as interim dean until a permanent dean is found. 
According to a press release, WSU Provost Keith E. Whitfield said, " I look forward to working with Lance to continue to build on Wayne Law's impressive period of growth and success."
"We are proud of our students who make such a difference in the community and graduate ready to be effective advocates and counselors, our faculty who are internationally recognized scholars and our alumni who lead in numerous fields," he said. 
Gable said he became associated with Wayne Law in 2006. 
He said he was in a dual degree program, where he received a law degree from Georgetown University and a master's degree in public health from Johns Hopkins University.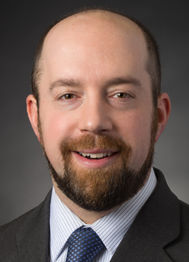 "That program really was transformational for me," said Gable. "It showed me how you should take law and apply it to issues of public health policy and have impact on the health of the entire population, through the ways that the laws and governmental infrastructure is set up."
Gable said he looks to invest in and improve upon the groundwork that Benson has laid down in areas like the Levin Center and Damon J. Keith Center for Civil Rights.
"[What] I'd really like to do is utilize those funds to continue to expand programs and to expand opportunities to our students to become involved working on those issues," Gable said.