On Nov. 10, the Coalition to Defend Affirmative Action, Integration, and Immigrant Rights and By Any Means Necessary rallied Wayne State students on a march from campus to Hart Plaza to protest the election of Donald Trump as president. 
Chair of the WSU BAMN chapter and freshman dance major Markeith Jones said BAMN is fighting to make their city and campus a sanctuary for immigrants by protesting Trump's vision, as well as federal propositions to deport illegal immigrants.
"Already, young people across the country have mobilized and held massive walkouts and marches because they know what this means for our future," Jones said. "We organized this event because we reject the idea that only the racist people in power have the ability to change society." 
Jones said BAMN's mass militant independent youth-led civil rights movement is prepared to shut down racism by any means necessary. 
"Donald Trump built an entire campaign on a semi-fascist platform and the racist Trump supporters are prepared to build a movement with the intention of terrorizing, beating and killing people of the black, Latino, Muslim, immigrant and LGBTQ communities," he said. "We will not accept the coming to power of a fascist movement in America! No Trump tyranny!" 
Supporters of Trump's opponent, Democratic nominee and former Secretary of State Hillary Clinton, gathered to voice their frustration at what they believe was not only the wrong outcome – but a debilitating one.
Maxwell Smith, a Master's of social work student, said the election of Trump is a major step back.
"It's a step back to Jim Crow, it's a step back to homophobia, towards xenophobia, it's devastating to be living out these times and to be seeing him elected and to see this kind of racism," he said. 
Smith said he has many concerns about what the outcome of this election could bring. 
"I am concerned about the right-wing nationalism, the extremist racists who are going to be emboldened by his presidency to act out violently towards the LGBTQ community, people of color, immigrants, people of different religions, not to mention the fact that he now has control over the NSA and also his finger on the nuclear button and he's not going to address climate change," he said. 
Sophomore pre-social work major Morgan Caudill said she merely stumbled upon the rallying, but she loved seeing her peers use their voice and she joined in to express her unhappiness about what's happing as well.
Caudill said she wants to live in a country where everyone feels free and represented, but after Clinton won the people's popular vote but lost the Electoral College, Caudill said many Americans will not be represented in consequence.
"I feel like he doesn't represent our country, he doesn't represent our demographics and I feel like there are a lot of minorities and women who aren't represented by him," she said. 
On the other hand, Trump supporters were quick to question the need to protest when photos and video of the march were shared on social media.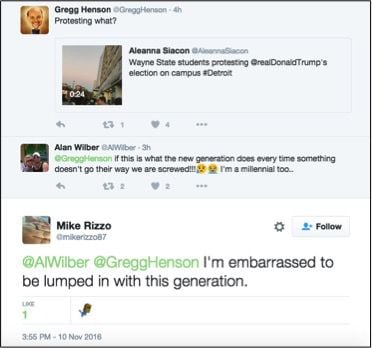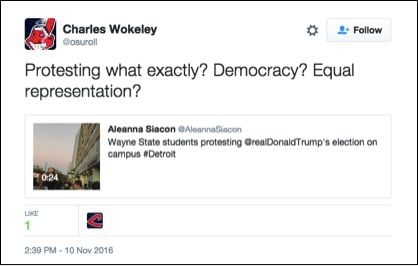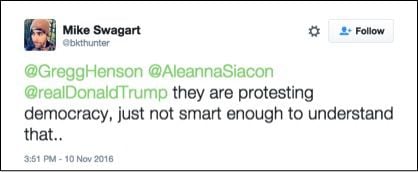 In response, student participants said their right and ability to express their opinions is an integral part of democracy.
"It's part of the First Amendment. Regardless of who's elected, I'm allowed to voice my opinion, this is a part of my rights," Smith said. "To someone who would say that [I shouldn't protest], I would say read the Constitution and I would say maybe you should have voted for somebody else other than Donald Trump."
Caudill said the ability to voice opinions should be equal for both sides across the political aisle, especially when individuals believe something wrong is happening.
"I have the right to use my voice and to express how I'm feeling, if I am unhappy I am allowed to do that. If they're allowed to express that they're happy with their results, I should be allowed to say I'm unhappy," Caudill said.